758 Darling Street, Rozelle NSW 2039
Contrary to the popular belief of most Balmain locals, life does exist on the other side of Victoria Street.

We took the opportunity to celebrate a friend's birthday by visting La Grande Bouffe - a decidedly French provincial restaurant in (as Balmain locals call it) the dark side.

Despite the French's reputation for rude service and diminuative portion sizes, we found the service polite, helpful and not at all overbearing.

The decor inside is intimate, although a tiny bit dark for my liking. There is also the option to sit outside if preferred, blankets supplied for those who like to be coddled.

Now onto the most important part, the food.

A good selection of very french and also 'safer' options for less adventurous diners, we ordered:

Chicken Liver Parfait, Cornichons and Toasted Baguette - A tad on the slightly 'sweet' side of the palate, the parfait was light but still retained its creamy texture. The warm baguette was warm and not too heavy, giving the dish an overall satisfactory finish.

Seared Scallops with Brandade and Parsley Sauce

The scallops were beatifully cooked. The brandade and the parsley sauce, though visually brilliant and well presented (a luxurious forest green), lacked enough taste for me, this dish was a little too subtle and required seasoning.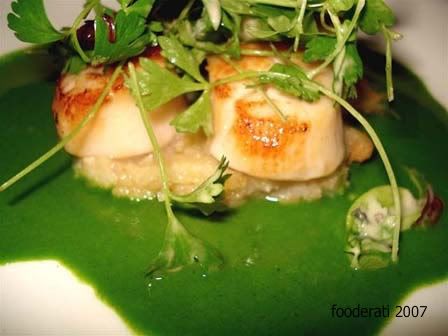 Six Freshly Shucked Sydney Rock Oysters with Eschallot Vinaigrette

Simple and clean, the oysters were small and tasty and the vinaigrette was suitibly tangy and cut the creaminess of the oysters well.

Our troupe of hungry diners were all tremendously excited about the main course. It seems my litmous test when it comes to these types of restaurants is to order the Confit of Pork Belly, as I simply can't resist the decadence of a good confit - and pork can be a spectacularly easy to stuff up, so its a good one for picking how much attention the chefs are paying in the kitchen.

I have to say, whilst absolutely delicious, served with a spiced apple jus, whilst my pork was perfectly cooked, tender on the inside, with a tasty, crisp crackling - the cooking seemed a little inconsistent as a fellow diner at my table's pork was a little too on the overcooked side.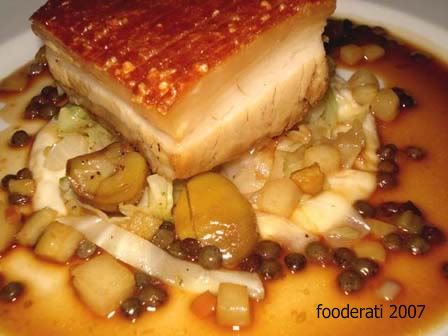 We all agree though, that the main attraction was the Braised Lamb Neck with Sauce Basquaise and Saffron Crème - which was both crisp in texture on the outside, and beautifully tender on the inside. A fabulous mix of well cooked vegetables accompanied, with a richly tomato flavoured basquaise sauce.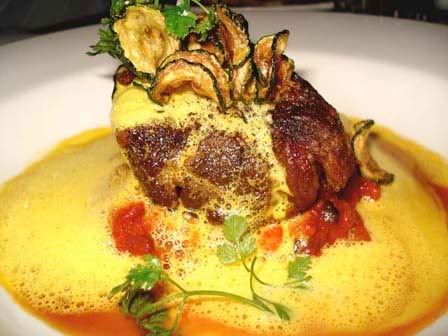 As far as my female companions were concerned, desert was the high point of the meal - and an advantage with going with a few people meant we could order several to taste:

Rhubarb Crème Brûlée - the rhubarb cut the creamy richness of the brûlée nicely, with a crunchy caramelised top, ever so satisfying to crack open.

Sour Cherry Clafoutis with Vanilla Ice Cream - don't order this if you've had a particularly indulgent entree and main as this pudding is a little heavier than most and perfect for a cooler evening. There could have been a few more cherries too.

Chocolate Fondant with Double Cream, Cumquats and Grand Marnier - If you love chocolate, you will love this dish. Everything a good fondant should be - rich, dark, warm and gooey in the centre. The candied cumquats were a really nice tangy accompaniment to cut the richness.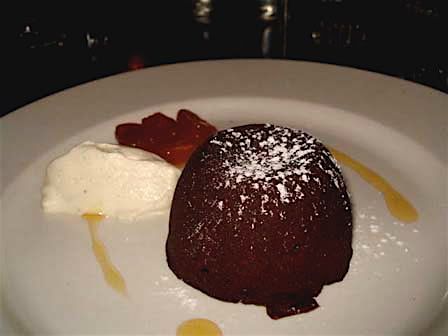 Poached Red Wine Spiced Pear with Vanilla Mascarpone - a nice 'lighter' options if one is fearing the heaviness of some of the other desert options. The red wine spiced pear was full of flavour - nice notes of cinnamon coming through. Good firm texture was retained - I detest over-poached fruit - its totaly unacceptable unless you're over 75.

The verdict: Better than good, but not quite great.

All in all, I would have to say whilst there was no real fault with the food, the service or the ambience - for me it lacked that certain, shall we say - 'jene sai quoi': all the ingredients were there, but something felt slightly lacking for a truly great eating experience. 7.5/10