270 Campbell Parade
Bondi Beach NSW 2026
Phone (02) 9365 4924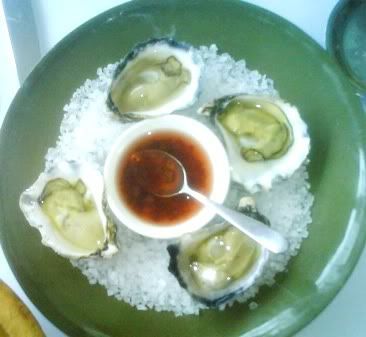 We are certainly spoiled for choice when it comes to eating in Sydney. The freshest ingredients, the most authentic and imaginative chefs, breathtaking vistas...but what makes a truly great dining experience?
I believe in the following:
1. Attentive, knowledgable and polite service
2. Interesting venue. This can be an interesting architechural feature, a great view
3. Emphasis on the best quality, seasonal local ingredients
4. Innovation
5. A complementary wine list
If these are the bechmarks for great food experiences, Sean's has it in spades.
We opted for the 6 course 'tasting menu', sold to us as "if you're willing to put your trust in the kitchen and expect a food adventure in return, then try the tasting menu".
As the menu can change daily...or even mid service, there's a wonderful unpredictability involved here.
Port Stephen's oysters with cabernet vinigarette
Wild kingfish tartare with salmon roe, water cracker and native finger lime
Fresh lobster salad with iceberg lettuce, tarragon mayonaise and chutney
Bass Groper with pancetta, poached, with ratatouille and potato gratin
Organic Sunfield turkey, roasted and stuffed with ricotta, sage, raisins and almonds
Sorbet of rockmelon&ginger and lychee, chocolate&mint
Chocolate and pistachio nougat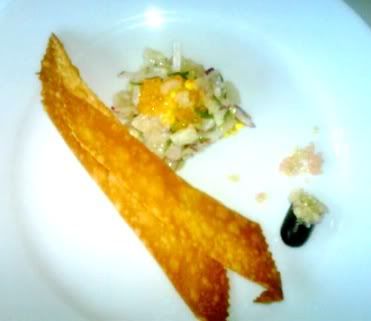 The highlight of the meal were the kingfish tartare - fresh, clean flavours, a delicious crunchy contrast with the watercrackers (think flash fried, crispy wonton texture) and the native finger limes looked like tiny pearls of roe that burst into bubbles of fresh lime zest in your mouth. It's a shame we don't see more local native produce on our plates more often. Extra points for waitstaff who actually know their produce and food history!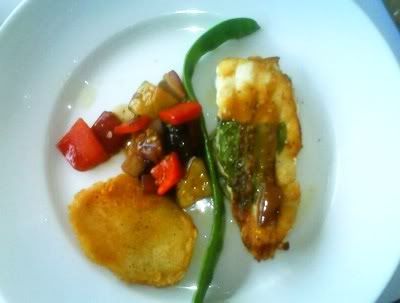 But more than the highlight being just one dish, it was the perfect execution of each dish (I could only find fault with the tarragon mayonaise being perhaps a little less full of life than I'd like), the freshness and local produce and the relaxed and friendly atmosphere all contribute to a synergistic experience.
Fine dining in a casual setting. Wonderful.
Tips: don't be in a hurry to rush off anywhere...this experience is best spread over a few hours!!
9/10