Republic 2 Courtyard
Palmer St
Darlinghurst 2010 NSW
Phone: (02) 9331 0709
Every so often, a new restaurant opens to much applause from lots of PR sweat and tears. Chefs are after all, the new rockstars.
Christine Mansfield's new venture has been surrounded by plenty of hype and on the surface; rightly so. Celebrity chef, chic location, trendy interior design, genius menu concept (14 savoury, entree sized flavours, ranked by order of light to heavy, meaning you can control your dining experience accordingly). Coupled with well informed and efficient (though not particularly warm) service, you should have a winner.
The operative word being 'should'. Going back to the menu, which promised such possibilities. Small, entree sized dishes meaning you could taste more of the menu in one fell swoop: nothing wrong with that.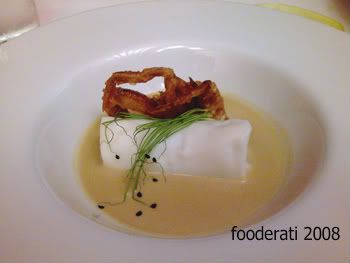 But where Universal fell down was in the translation of the food from the menu to the table. Allow me to be your interpreter:
Wasabi-pickled salmon, served with sweet grilled eel and pickled seaweed salad = one small piece of plain salmon sashimi (wasabi...where? not on my plate!) on a fancy deconstructed nigiri stack for $24. (reminds me of the horrors of sushi in South Africa where they make a sushi 'sandwich' *shudder*
Chilli salt squid salad, served with green paw paw et al. Again, no originality or ground breaking innovations in either flavour, construction or execution. One could find the same thing at the local thai joint around the corner. (putting a small portion of food on a big plate doesnt make it fancy.)
The seared golden scallop with broth and cabbage dumplings were so over-powered by white pepper and was so over-salted, it felt like the latter days of msg-esque thirstiness. (No accusations here!)
The spanner crab pancake with soft shell crab in coconut crab soup = half a tiny soft shell crab and a Vietnamese rice noodle roll swimming in a mediocre laksa.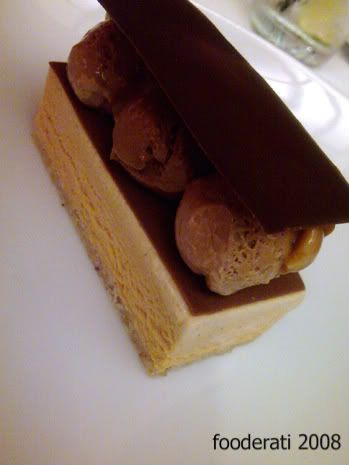 This evening's redeeming dish was most likely the dessert aptly named 'Totally Nuts'; a layered concoction of nutty praline, light and dark chocolate mousse and a fantastic salted caramel nut layer which cut the sweetness of the chocolate perfectly.
Good, not mind blowing.
6/10