576 Darling Street
Rozelle NSW 2039
02 9810 8899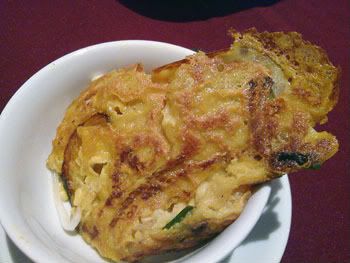 New to the Rozelle/Balmain dining scene, Le Tran immediately stands out amongst its neighbours for not choosing a 'moody evening dining' look - its clean, bright interior space may be a little glarey for regular Balmain diners, but that clean, bright feeling continues through the menu and that can't be a bad thing.
Our table started with an entree of Banh Xeo - a well known Vietnamese pancake dish, containing prawns, pork, bean shoots and served with a sweetly tangy vinigarette.
The serving size was generous, and the pork and prawns were abundant and tender. The pancake, unlike the Chinese version is made of rice-flour so it has a lighter, crispier finish.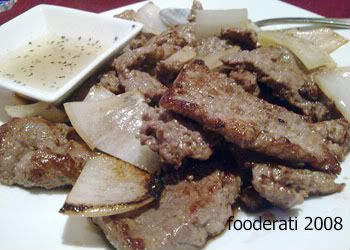 We were assured by our friendly waitperson that their Bo Luc Lac (aka. 'Shaking beef') was one of their best known dishes and this came in the form of bite-sized pieces of beef - if sliced a little thin - which has been braised in garlic and then wok fried with onion until clear and sweet and then served with a clean lemon pepper vinigarette which cut the faint oiliness well.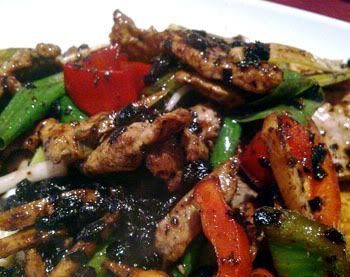 After a teeny lapse (it was rather busy), our Heo Dau Den - pork braised with capsicum, onion and black bean sauce arrived. Pork can be a huge hit or miss when it comes to this type of dish. It can end up being too dry or so over-marinated in bicarb that it reduces the meat to playdoh. Fortunately it was neither - and the bitterness of the black beans was really well offset by the sweetness of the red and green capsicum.
Lastly, the Tom Xa Ot, king prawns pan-fried with lemon grass and chilli not only looked succulent but proved to be the winner of the meal. Top marks for well sized juicy prawns, generous serving size and a deliciously spicy tangy glaze throughout the entire dish.
With the bill roughly $70 for 3 people, its pretty satisfying, moderately priced casual dining.
6.5/10