60 Bronte Road
Bondi Junction, NSW 2022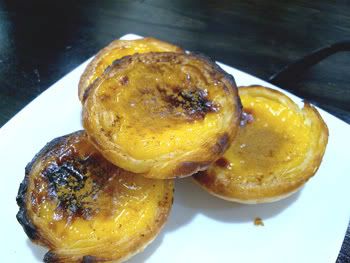 When you think of where to go in Sydney for great Portugese custard tarts, you inevitably think of Petersham, Stanmore or even Leichardt. Fortunately Pastelaria Caravela, in Bondi Junction is redressing the balance, with its slew of traditional cakes and pastries...and the ubiquitous 'portugese custard tart', known in it's natural habitat, I'm sure, simply as 'custard tart'.
The waitress behind the counter assures me that the rumours are true - that the tarts are 'the goods'..adding "I don't really like custard tarts..but these are awesome."
Being rather the new kid on the block..Pastelaria is quickly developing a cult following of fans who seem to know exactly when the next batch of tarts are just about to come out of the oven...and boy is it worth the wait.
Crisp, crunchy and yet buttery pastry holds the still-warm, gooey interior of the tart in such a way that when you bite into it, the filling oozes out like so much delicious creamy molten lava. The top is satisfactorially charred and caramelised as to keep the contents from flowing out and the cinnamon dusting complements the rich vanilla-esque essence.
At $2.20 a pop, its an economical tastebud journey to the other side of the world - well worth the trip.
8.5/10