(published: 3DWorld Magazine)
Shop 1, 90 Wentworth Ave
Surry Hills NSW 2010
Phone (02) 9280 0928
Published in 3D World
People eat for different reasons other than hunger: Comfort, boredom, or just because you can. There are even people who eat for sport. Spice I Am isn't quite competitive eating, however it does require an element of bravery and determination if you're going to eat Thai food the authentic way: with a whole lot of chilli.
Spice I Am has developed a bit of a reputation for being the 'real kid on the block' and the crowds of people and the multiple food awards certainly attest to that. We manage to be seated immediately however this is a rarity so arrive early to avoid disappointment.
The first thing you'll notice about the menu is that there are a whole lot of 'S's denoting particularly spicy dishes. Quite a few more than most Thai restaurants in the neighbourhood. The Pad Prik King with Crispy Pork Belly comes highly recommended and is a house favourite amongst regulars. This dish comprises of stir-fried curry paste, green beans, kaffir lime leaves and crispy pork belly and is crunchy, spicy, fresh and tangy all at the same time. After a few seconds, the chilli kicks in - it almost dares you not to go back for more however the pork is incredibly tender and the crackling so crispy that the tastebuds battle to overcome the spice for another bite. Order this dish with a Green Papaya Salad (ask for mild) and a coconut juice to cool the senses.
The specials here change regularly and today this is a Banana Blossom Salad with Roast Duck. It arrives, rather impressively served on a banana leaf; the duck garnished and neatly stacked on top of the creamy coconut milk infused salad of coriander, peanuts, tamarind, lemongrass and of course, finely sliced banana flowers. The duck is tender and meaty and gives a nice richness and balance to the dish.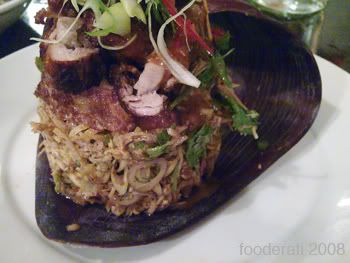 If spicy isn't your thing, there is still a lot to tempt the tastebuds without burning them off but occasionally it is nice to eat outside your comfort zone and try the spicier things in life.