Moeraki, Otago New Zealand
www.fleursplace.com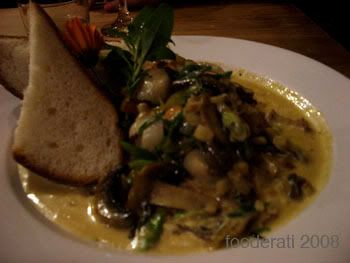 I love Rick Stein. He is probably the only person in the world that if I met, I'd probably faint. He's my version of a rockstar - his opinion and knowledge of food is close to holy.
So when Rick dines at a restaurant, I know there's a good reason for it...and when there's a smile on his face in the photo on the wall, and people from all around New Zealand wax lyrical about it, I'm going there.
Moeraki is an amazing tiny fishing village about half an hour's drive from Oamaru, look for the sign carefully: blink and you'll miss it. Fleur's Place doesn't have a sign. You just know where it is. And Fleur is famous for being unreasonably, passionately in love with good food. Local produce to be precise. Even the menu promises nothing specific other than 'what's locally caught on the day'.
The restaurant is a converted building on the edge of Moeraki port, made of recycled timbers put together rustically and with love. Welcomely warm, you'll often find a live band and the guys who caught your dinner sitting at the bar.
The service is quick, friendly, efficient and incredibly generous. Entree and main dishes don't really distinguish in size, so its best to share an entree if you want to have room for dessert. We didn't have this foresight, so we chose the Sea Scallops with Fleur's own speck bacon, spring onions and mushrooms in a cream sauce AND a very hearty Seafood Chowder for entree...both amazingly clean in flavour, simple in preparation; just enough to showcase such amazingly fresh ingredients.
Next, local Blue Eyed Cod, wrapped in bacon, served with local vegetables in a cream sauce. The fish absorbed the beautifully smokey flavour of the bacon, without losing its essence. The cream was perhaps a little generous, however I think it can be excused, given the 5 degree temperatures outside.
Not forgetting that Otago is home to some of the happiest and relaxed cows on earth. The beef fillet was perfectly cooked, and almost melted in the mouth, served with the most delicious Kumara mash in existence, locally produced vegetables and a creamy peppercorn jus. Almost the best steak I have eaten. Ever.
After much bargaining with my stomach, I persuaded it to allow a few bites of dessert from the specials board. Fleur doesn't know how to serve sparingly, so if you're on the full side; share.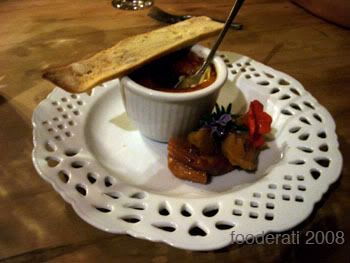 The Creme Brulee flavour varies on the day - today's special was orange and cardamon infused, lending a freshness and lightness to a classically rich dish. This was served with stewed apricots, no doubt from an orchard within stones throw.
If you happen to be even remotely close to Moeraki, don't even think about it. Anyone who appreciates food even in the slightest will appreciate this experience.