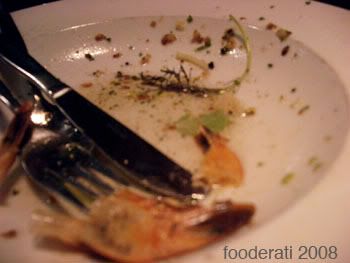 New Zealanders certainly pride themselves on their produce. In fact, its hard to find a seriously bad meal here unless you seriously try. As a big believer in food being best when simply prepared using good produce - I'm in good company as it seems most Kiwi's feel the same way too. 
Queenstown is most famously known for being the 'adventure capital' of the south island. On our recent trip there this week, you can certainly see how equipped it is with the huge influx of tourists during the snow season. Though this is still 3 weeks away, the town seems to be gearing up already. 
There is a huge range of choice here, from high end establishments to friendly pub food, the gamut of Asian restaurants (Thai, Japanese and Korean are popular for obvious reasons) and cheap and honest offerings to boot. 
Aggy's
Aggy's, a fish and chip shack down on the pier is the best way to do 'fush and chups' I've ever experienced. We sampled the fish basket - Green Lipped Mussels, Blue Eyed Cod, Scallops, Calamari, Prawns and the ubquitious 'chup' are simply prepared in a light batter and served, no frills, on a paper plate. Try the bluff oysters - natural or Aggy's preferred way - battered. Either are deliciously succulent and full of flavour. 
Avanti
If you're after easy Italian food; Avanti is the place to go. No innovations in gastronomy here but if all you're after is a tasty Marinara or a simple Aglio Olio (ask for it with prawns..my little innovation), then head here for a bite. The desserts are HUGE, so best to share unless you're putting on blubber for the winter months. 
Tatler's
As the name implies; the price point isn't exactly Aggy's but it is certainly worth the money if you're feeling like a guaranteed evening of well prepared fresh, local produce and a great wine selection. 
As with any good restaurant, they pay attention to the seasons and the menu changes accordingly. The winter menu includes a Slow Roasted Pork Belly, Pesto Linguine with Spiced Prawns, Green Lipped Mussels and Seared Sea Scallops. 
No faults found here - but if you do, there is a feedback form given with the cheque so you can provide your two cents should you feel the need. Ticks for continual improvement through customer opinion. Try the Central Otago Pinot's...perfect for a cold winter's evening. 
Patagonia
If all the cold weather gets to you, there really isn't a better way to ward off the icy temperatures than with a hot chocolate. And nobody does it quite as well as Patagonia's. With a store in Arrowtown (a must visit - so cute!) and another, on the quay in Queenstown, these guys are serious when it comes to chocolate. Try it straight or infused with lavender, chilli or orange - think the richness of melted chocolate combined with New Zealand cream..if you're into chocolate at all, this will be your version of crack. Try the pinot noir and cherry handmade chocolates to tie you over until your next visit.