addington is known for shopping, 4wds, small dogs and big credit cards.
But amongst the boutique shops and exorbinate prices there is some great food to be had that surprisingly doesn't involve taking out a mortgage.
The Pub: The Grand National

Tucked away on Elizabeth Street a few blocks from Oxford St, this pub might be mistaken for another one of the cookie cutter pub-turned-wannabe-restaurant but this is one pub that can actually deliver on the goods.
An unpretentious though polished interior is made warmer by friendly bar service and it gets better with a wide range of menu options from classic bangers and mash - creamy mash, topped with Cumberland pork sausages and onion jus - no Gravox here (don't laugh, I've seen it..ick).
The Grilled Lemon Chicken salad is much more substantial than you'd think. The chicken has a great smoky-seared flavour but still remains tender.
If you're in for something a bit fancier, The Grand National has a bistro next door with a chef's hat that won't disappoint.
The Cafe: Gusto
In the busy Paddo Five Ways, Gusto is a bit of an icon. It kind of looks like a little bit of Paris in Sydney, known for its great coffee, fresh salads (new combinations change regularly), quiches and tarts. Grab a seat and the paper or play 'fashion police' with pedestrian's outfits whilst you wait for your mushroom, salmon or fetta and tomato quiche and a strong latte. If you like your sweets, the chocolate brownies are delicious and don't leave without checking out the impressive selection of cheeses.
The Restaurant: Wasavie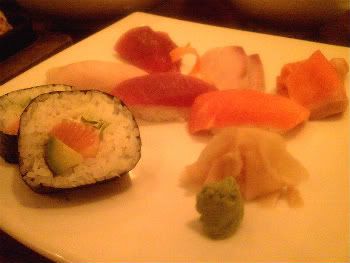 Just a few shops up, check out Wasavie for Japanese in a chic setting. Japanese can be seriously hit or miss in Sydney; with just about everyone claiming they can slice fish and call it 'sashimi'. Luckily you can watch skill at work in the open sushi preparation area from a seat at the long, dark wood communal table.
The sushi/sashimi plate will give you a good selection of prawn, salmon, tuna and kingfish whilst the Wagyu Beef Tataki will have vegetarians considering crossing over to the dark side.
Other winners on the menu include the Nasu Denkaku - eggplant topped with white miso paste and grilled - order a side of rice to fully appreciate the saltiness of the miso. The basics, such as Tempura are also executed really well and is crisp without being oily.
At around $35-40 a head, its slightly fancier dining without the fancy price tag.