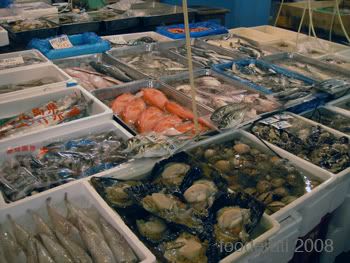 I am tired. I woke up at 4am to get to the Tokyo fish markets after all. If you are food fiend and you come to Tokyo, you can't look past a visit to the fish markets for produce sensory overload. It's loud, people are everywhere (in fact, its probably the rudest you'll ever experience a Japanese person to be..which is still not that rude), there are thousands of types of seafood, its wet and a tad bit stinky. In other words music to a seafood lover's ears.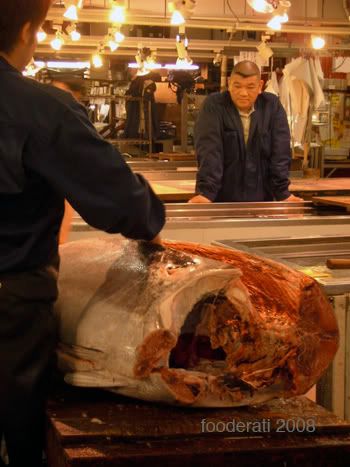 To fully experience the markets, get to Tsukishijo metro station (don't make the mistake of going to either Tsukiji or Tsukishima stations or you'll get lost!) between 4 and 6.30 am to see auctions take place, massive tuna being cut using jig-saw type machines, random fish bits..and Sashimi for breakfast. Most of the market restaurants right in the fish markets are good..but some can be tourist traps. Ask to see a menu and agree on a price before you sit down if you aren't sure.
Raw fish first thing in the morning is something you're not likely to experience in many other places, so suck it up and give it a go. Ours came with a meal set including rice and miso. We also ordered some tempura prawns and squid for good measure. Knowing what you're eating was alive probably no more than a few hours ago is freshness like no other.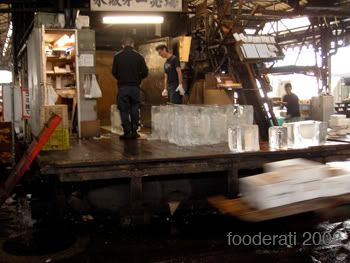 Whilst you're at the markets, check out the cutlery and crockery area for everything from steamers to chopsticks, gum boots (for your next visit to the markets of course!)...and sashimi knives.
Be picky, because there are a few stalls to choose from but you can expect to pay anywhere from $65 to $250 for a good one, depending on size and alloy composition. These guys know their stuff and make sure that they grind your knives for you once you've forked out the cash...its worth watching how much care they put into those pointy pieces of genius.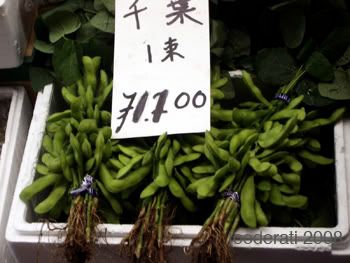 You will also find some amazing vegetable produce at the markets in a separate section to the fish. Fresh horseradish, edamame, a thousand kinds of mushrooms and more..if you're lucky enough to be staying with a friend or place with a kitchen, pick up some produce and try out your fancy new knives on a few Japanese favourites.
Some tips for Tsukiji markets:
1. Wear clothes you don't mind trashing..its wet, slippery and dirty so dress accordingly!
2. Pay attention. There's a lot happening and including guys driving nifty vehicles at great speed. Miraculously, nobody seems to get run over, so don't be the first.
3. No flash photography. These guys do this every day of the week and it's distracting. Plus you don't want a wharfy to get mad at you. Not even a Japanese one.
4. Get there early!
5. Check out the weird stalls displaying stuffed raccoons and more (I'm sorry to say we saw a panda and two polar bears...though we're still not sure why they were there.)