Published in 3D World Magazine
98 Parramatta Road
Camperdown NSW 2050
Phone (02) 9557 6866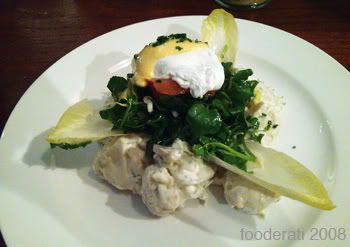 If you are a rough-edged biker with a heart for the open road and the lady in your life has two wheels, where do you go to eat?
I haven't the slightest clue. But for weekend hobby hogs from the Inner West, the answer is Deus Ex Machina.
This newly revamped café; situated in the Deus' headquarters in Camperdown is not only a place to enjoy a weekend latte, the paper and a modestly impressive meal but also the perfect retail/eating experience for those with a secret passion for life in the fast lane: Enjoy your eggs and then cruise Deus' collection of vintage motorcycles, fixies (fixed gear bicycles) or eye out your next set of skeleton appliquéd motorcycle gloves.
Deus has developed a reputation for an appreciation for quality and an eye for detail – no more does this come through than in the produce and menu choices: AC butchery smallgoods and both seasonal vegetables and recipes such as lamb shanks and pate for winter comfort eating.
A good litmus test for a café can be found in its version of 'the big breakfast' and Deus passes with flying colours. An emphasis for quality rather than quantity is evident; the scrambled eggs were creamy and perfectly cooked, the mushrooms, bacon and trimmings well proportioned.
The dill-cured salmon salad with potato and fennel salad and poached egg is a good choice if you're having brunchtime (do I want breakfast or lunch?) dilemmas – the only downside is that the salmon is so good that they have a hard time keeping it in stock.
It may also be hard to pass up the delectable items in the window as you line up to order… you might want to leave room to share a slice of mushroom pizza or a cake in addition to your breaky.
Well produced food, happy service, Rumblefish on the plasma, sexy machines..what more could you ask for on a lazy weekend?