26 Bridge Rd
Belmore NSW 2192
Phone (02) 9740 6633
http://www.canterburyleague.com.au
I consider myself a bit of a Yum Cha aficionado. I've been going to Yum Cha ever since I can remember. Over the years I've visited them all: Zilver, East Ocean, Forest Road, Imperial Peking, Bankstown Chinese, Marigold, Regal. You name it, I've probably gobbled a dumpling there. I recall a period of about 4 months where, as a family we went every single Sunday. We had little a break after that.
My parents have acquired a valuable lifeline to the best joints over the years: the Chinese mafia, also known as the granny set. Forget reading Australian Gourmet Traveller, these grey-haired doyennes know where it's at.
So with their golden handshake, and wrinkled nod of approval on the latest Yum Cha heavyweight to enter the ring, it'll be no surprise to me when Dynasty finally gets picked up by one of the Sydney rags.
It isn't in Burwood, Marrickville or even Haymarket, but Belmore that you'll find the new object of Chinese mafia affection. Dynasty Chinese Restaurant, nestled in the newly revamped Canterbury Leagues Club, aka. Venue with the most water features per square meter.
At 12.30, the restaurant is packed but I am assured that even at peak time, you generally don't wait more than around 10 minutes to be seated (nearly unheard of in Yum Cha protocol).
The food arrives immediately; fresh and hot – no luke warm Har Gao or tepid Padan Sao Yu Chook here.
Top picks are the See Jiap Pai Gwat (steamed pork spare ribs with garlic and black bean sauce), Har Cheong Fan (steamed rice noodles with prawns) and family favourite, Yon Iqua (seafood stuffed eggplant, with black bean sauce).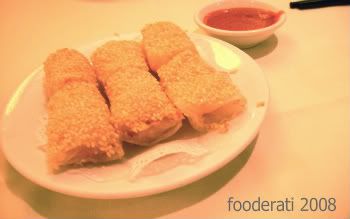 Whatever your favourite dumpling, you'll most likely find it here. In fact, all the best elements are present; the atmosphere, great produce and execution, quick and efficient service.
Lastly; the bill came to under $80 for 4 people. That's 1995 prices! Well worth the drive out of the city.