10 Elizabeth Street
Paddington NSW 2021
Phone (02) 9331 2962
Fax (02) 9331 5624
Published in 3D World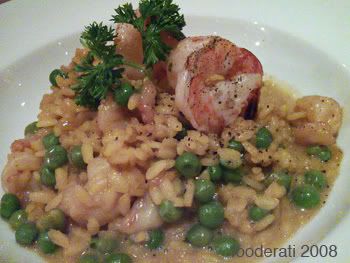 The 20th of May marks the beginning of Sydney's Italian Festival for 2008. For just 3 weeks, all things Ferrari, football and meatballs are bigger than Ben Hur.
Whilst the first two don't tend peak my interest, the Italian Festival highlights just how much good Italian food we have in Sydney. It is around this time that Leichardt and surrounding suburbs tend to get rather congested with revelers, so if you want to sample some of the best food legacies Italy has blessed Sydney with (or you're too lazy to head to the inner west), head to Sugo in Paddington.
Tucked away between Quatro Passi and Blender Gallery on Elizabeth Street, this hidden gem boasts a combination of fresh Australian produce and the real deal direct from the motherland.
Here you'll be greeted with friendly smiles, kisses on both cheeks (how very European) and warm service. Inside you'll find a little Tuscan taverna - kind of quaint looking with lots of cosy twosome tables.
The wine menu is modestly impressive, with a variety of both Australian and Italian vinos to choose from. The Barossa Valley Shiraz comes highly recommended by the glass and is rich and smooth tasting - a good all rounder.
On the menu, you'll find the usual gamut of pastas, salads and pizzas - but one thing you'll notice is that almost every dish contains quietly luxe ingredients, whether it be the saffron infused risotto with prawns and peas, the Salsiccia Porcini pizza with porcini mushrooms or just really good quality cheese.
Whilst our mains took a little while longer than desired to arrive, we weren't disappointed in any way. The produce, execution and presentation was efficient, well balanced and generously proportioned. I would suggest ordering an entree to pick on if you're a tad on the 'hangry' side (hanger: anger derived by hunger).
The saffron risotto was creamy without being sloppy, the prawns were plentiful and crunchy.
If creamy dishes are more your forte, don't miss the Gnocchi Gorgonzola with walnuts and rocket..soft pillows of fresh gnocchi stirred through a most decadent walnut-peppered gorgonzola sauce - rich but surprisingly not too rich or overpowering.
If degustation meals are more your thing - Italian Festival specials include 6 courses for $55 and include specialities from both the north and the south of the boot and are sure to please.