World Square Shopping Centre
Shop 11.04
644 George St
Sydney 2000 NSW
Phone: (02) 9264 6010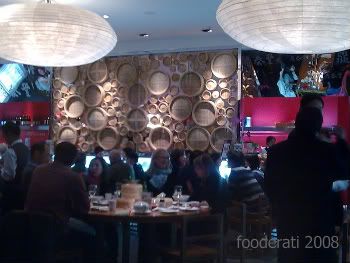 Din Tai Fung's latest bid to take over the world is working. This Taipei-based dumpling giant has caused somewhat of a fuss in every country they've set up in. Lines out the door, rivalling the most popular of Yum Cha restaurants. The evening we decided to brave the queues is icy-cold, like a can of Coke. People huddle under red-lit heat lamps, like so many baby chickens.
An average 45 minute wait can be used to learn some very important techniques in dumpling production from the open kitchen in the front - very reminicent of Shanghainese soup dumpling restaurants in the Yuan Gardens district in the old country.
Like lotto winners, we yelp when our number is called. Do we mind sharing a table? Not if it means we get fed faster!! We've taken the liberty of ordering from the Hong Kong Dim Sum-style ordering sheets that are given out when you take a number. We settle for pickled cucumber salad, pork dumplings, vegetarian dumplings, fried chicken with soup noodles, stir-fried green beans with black bean and pork as well as a vegetarian steamed bun.
Inside this sleek interior, we find the place packed to the rafters with the well-heeled after work crowd and thankfully, a satisfying amount of Chinese customers (It's my 20% native diner authenticity theory).
The food comes fast and furious to our table, accompanied by deadly efficient service and polite smiles from reassuringly authentic Mandarin speakers.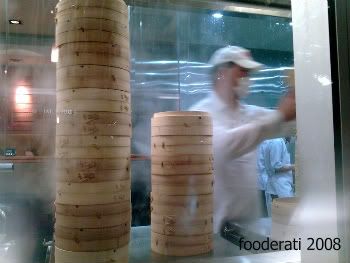 Recent reviews wax lyrical about the Steamed Pork Dumplings..and biting into one I can see why. Delicate, steamed pastry gives way to an interior filled with pork and broth...it takes practiced skill to nibble a hole, suck out the soup and then eat the dumpling - all without burning your mouth, spraying your dining companion with soup or losing the valuable contents of the dumpling into the bowl.
The Vegetarian Dumplings have a much more delicate flavour than a Yum Cha-style Gow Choy Gow, though has a similar consistency. These go perfectly with the vinegar sauce rather than the soy.
The Fried Chicken Chop with Soup Noodles vaguely resembles Japanese Karage... kind of like a Chinese version of KFC. The soup noodles lack a little flavour, but is nevertheless clean and well matched for a cold night.
Don't discount the vegetables, even though your mission here is to eat dumplings. The Fried Green Beans with Blackbean and Pork are a riot of flavour and absolutely delicious - delicately steamed beans are wok-fried with garlic, blackbeans, chilli and pork mince - they are almost a meal in themselves. Conversely the Cucumber salad is cool, refreshing and really authentic mainland Chinese fare.
Din Tai Fung may have all the trappings of a 'so hot right now' venue, but the quality of the food and service will guarantee it's long-terms success both here and around the world.