As published in 3D World magazine
Wagaya Restaurant
Lvl 1/ 78 Harbour St
Haymarket NSW 2000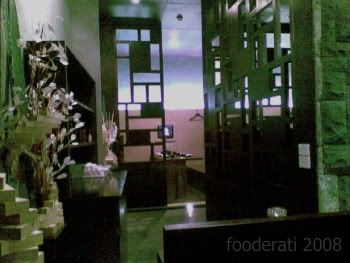 Japan is home to many strange and wonderful things, especially when it comes to technology. Vending machines can offer anything from refreshment to ramen and …erm, used underpants.
Everything has a Qode (barcode-esque image, when snapped by your mobile, will take you to a website) and even showers come with more bells and whistles than a one-man band.
So when it comes to food – trust the Japanese to come up with new ways of innovating the dining game. It isn't exactly molecular reconstruction or even robot waitresses…in fact nobody takes your order at all.
It's all done via a touch screen at your very own table. You click on the entrée, main, sushi, drinks or dessert, enter in how many you want and OK GO! Within a few minutes, a friendly wait-person delivers your order with a smile and you're on your way to delectable central.
The great thing about the touch screens is that most items have an image, so if you're a bit unsure – this takes the guesswork out, plus: pressing buttons...Tell me who doesn't want to press the buttons?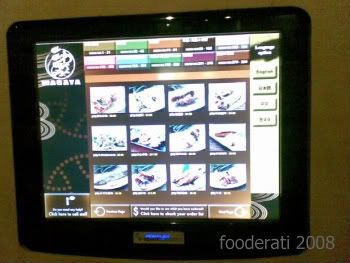 When you think DIY ordering, you might be thinking bright fluorescent lighting and an Asian food hall aesthetic. In fact, nothing could be further from it. A rather unobtrusive street level door, across the road from the Sydney Entertainment Centre leads upstairs to a sexy 1st floor restaurant full of dark wood, partitioned dining and subdued lighting. Those who know Tokyo will find it comforting to see that this little piece of Japan has made it all the way to Sydney.
The quality of the Sashimi and Sushi is excellent – try the Mixed Sashimi plate in small, medium or large sizes – not just your regular salmon, kingfish and tuna combo but scallops, prawns, calamari and more. Other standout dishes include the tender, grilled Wagyu Beef, Agadashi Tofu with its wriggling bonito flakes as they dissolve and the Chowan Mushi – steamed egg with crabmeat – the texture is silky and smooth like tofu with a creamy delicate flavour. Yum.
Seriously reasonably priced and great for couples and large groups alike, the only difficulty you'll have here is fighting over who gets to press the buttons.