I do love a good Thai pun for a restaurant name. Bow Thai, Thaitanic, Thai Me Up...the list probably goes on beyond that of any other genre of food out there.
We're quite fond of the odd 'Asianism' in the form of a wayward mis-spelling or a
translation made too literal
.
A special mention goes to my friend Nathan for finding quite possibly the most hillarious Thai menu EVER. Almost every menu item is GOLD.
Special mentions go to number 28, because 'I just deleted Laksa by this new dish', number 55 'Boring dishes but very tasty, but very easy to cook but not easy to make nice.'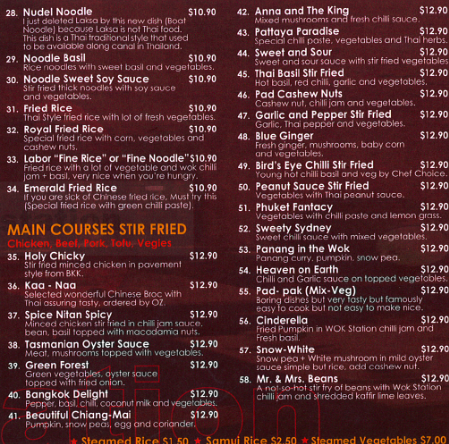 Pity the food isn't as spectacular as the menu descriptions, but you can't win 'em all.