As published in 3DWorld Magazine
296 Darling St
Balmain NSW 2041
Every so often, an artist comes along that the food world faun over as the latest and greatest thing since molecular cooking brought foams and gels out of the bathroom and onto the dinner plate. That artist right now in Sydney is 26-year-old patissier Adriano Zumbo and his acclaim is rightly justified.
The pastry game isn't fraught with pansies. Forget what you thought about it being the realm of nanas and paper doilies, this level of haute patisserie requires a huge level of skill, God given talent combined with real artistic vision (Zumbo's brooding good looks and commanding stature probably also help too).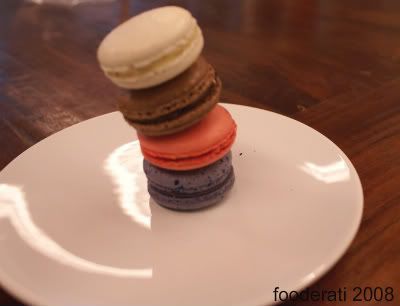 To put it simply, it's all about the complex things well and the simple things done even better. From pane o'chocolat and olive & rosemary sourdough to candy coloured macaroons, delicate tartlets and mille feuille cakes, there's something for everyone whether you're after desert for 10 or a baguette for soup.
Having been a Balmain local for 5 years before moving east, I'd have become a significantly chubbier version of myself had I stayed local to this little piece of heaven. I'll still occasionally cross the city for a hit, though and unsurprisingly; Zumbo's has become somewhat of a destination point for foodies in Sydney.
A real talking point amongst sweet lovers has been Zumbo's many varieties of macaroons – those little French biscuits favoured by Napoleon Bonaparte – proving you don't have to be a dainty lady to eat them.
In flavours such as fragrant Earl Grey, speckled Blueberry & Lavender, Apricot, Peach & Saffron as well as Vanilla, herbal Olive Oil and plain old Chocolate – the only real way to do it is to buy at least a couple to try. Otherwise how would you know which is your favourite? Top picks would definitely have to be the Apricot, Peach & Saffron version. It has a subtle peachy flavour and delicate saffron colour, topped off by a brush of edible gold paint. At around $2 a pop, you'd be crazy not to buy a couple.
If macaroons aren't your thing, there are plenty of other creations to whet the appetite, the buttery, flakey croissants are text-book perfect and if you're too lazy to make desert for your next dinner party, they serve up impossibly impressive (and sometimes too sexy to eat) creations, such as the sunset inspired passionfruit tarte, the jelly glaze reflecting the perfect coastal summer sunset. There are even some in their own glass dishes, from $5 a pop.
If we were ever accused of not having great pastry chefs in Sydney, Adriano Zumbo's creative works are certainly proof that 'they' (whoever 'they are) are wrong. Remember, you have a separate stomach for deserts, so there's really no excuse not to indulge.