The Wharf
Shop 8, 6 Cowper Wharf Rd
Woolloomooloo
NSW
2011
Phone (02) 9368 7488
Fax (02) 9360 9688
Ahhh
, Sydney Food Month. A
riotious
celebration of all things food, eating and...food.
The famous
Let's Do Lunch
is back on again and is a great opportunity to visit some of Sydney's best *and most expensive restaurants...without the sometimes sky high price tags.
For $35.00, you can experience anything from the amazing
Yoshii
, to Quay and of course Otto.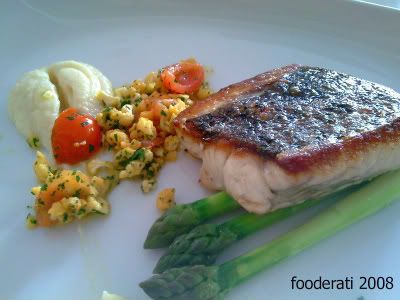 And on the menu? A glass of Brown Brothers
Pinot
Grigio
, a beer, or San
Pellegrino
, a main of "
Filetto
Di
Barramundi
Con
Asparagi
e
Cavalfiore
" That's Italian for a crisp-skinned
barramundi
fillet served with delicately blanched asparagus, an earthy flavoured cauliflower puree, served with pickled cauliflower and cherry tomatoes. After this, comes coffee and delicate
friands
to finish.
On a sunny Spring/Summers day, what more perfect way can you spend it than sitting outside, watching the well-heeled, well-connected or simply well-endowed (in the monetary sense..get your mind out of the gutter!) supping at Finger Bay Wharf, Sydney's answer to eating at the Ivy in LA...but times 10 restaurants.
Ok
,
Keanu
Reeves and
Brangelina
may not be regularly spotted here, but the food is worth coming here alone.
I'm often skeptical of plate specials - they can often be stingy and make you feel like less of a diner..but Otto's staff are warm, friendly and efficient and the presentation and quality of the food is in Otto's usual top notch form.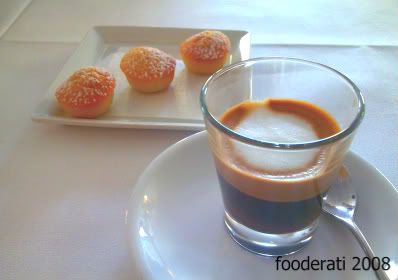 And the verdict? Well done Otto. Whilst vaguely similar to last year's offering, the fish was firm fleshed, crisp of skin and the
accouterments well suited to seasonality and completely complementary.

Try and get a booking whilst you can.