Upper Level,
Overseas Passenger Terminal,
The Rocks, Sydney
9251 5600
Quay. Discussed in the most revered tones, respected by Sydney's elite, perched pride in place as the Jewel in the Overseas Passenger Terminal strip...and one of Sydney's most expensive restaurants.
With a visionary chef like Peter Gilmore, who can blame them for trying? Quay is in actual fact rather reasonable, considering you can get in and out for a midweek lunch of 2 courses for around $75.
But going even cheaper and dirtier, the Let's Do Lunch offer for Sydney Good Food Month is the standard $35 across all restaurant offerings. The Good Food Month list doesn't explain much. From what you can see, it's the mains and little more. From the actual menu...it's little more.
So here's the rundown: An option of Coopers Sparkling, Brown Brothers Pino Grigio or Tempranillo or San Pellegrino Con Gas (that's sparkling to you), accompanied by an assortment of impeccable Sourdough options.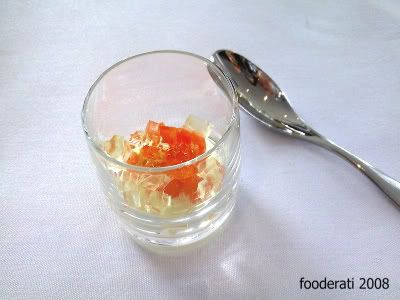 This is accompanied by an Amuse Bouche of Trout Tartare, Trout Roe and Cauliflower Cream. Petite. Rich. Rather tasty. To be sure, it's something you probably shouldn't want more of...but do.
The main of Butter Poached Leather Jacket, White Asparagus, Spring Herbs, Lemon Confit dressing arrives...big plate, small serving style. Not being a huge fan of someone highlighting how small my meal is, this is not my preferred way to dine.
Having said that, the fish was impeccably executed, and was light tasting, well complimented by the asparagus and dressing. I'd highly advise ordering a salad and Creamed Potato along with your mains...Quay's mash (though needlessly refined) is one of the tastiest in the city. I feign to know how much butter went into the creamy concoction.
To finish, unlike Otto there is nerry a baby friand or shortbread in sight. And to be honest, the coffee was completely substandard by Sydney standards. How an establishment named Restaurant Of The Year can make coffee this awful is beyond me. So there you have it. A mixed bag of totally right and completely wrong...all in the space of a 2-hour lunch. I'd be keen to hear what you think if you've been this GFM.