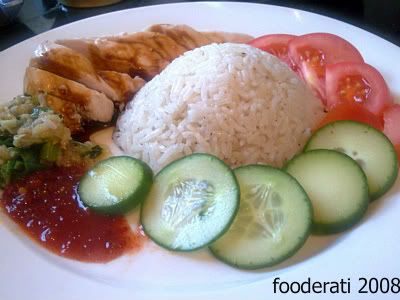 There's something to be said for comfort food. Whether it's macaroni cheese, bangers and mash or good old spag' bol, it's highly likely that your comfort food of choice was first made by your mother or grandmother.
In my case, the food in question is classic Singaporean Hainanese Chicken Rice. That famed poached chicken dish with the special grainy rice and ginger garlic accompaniment that has a soft spot in the heart of most Singaporeans and Malaysians.
It's a dreadfully simple dish, but the catch is that you have to get your technique down. I've been holding off trying to cook it for years because I was afraid that it would never be as good as Mum's. Whilst that might be true, I'm happy to say my first attempt was pretty kick ass, so I'm sharing my recipe with you.
Serves 2
Ingredients
1/2 a small organic chicken
1/2 a bunch of spring onions
1 large piece of ginger
2 cloves of garlic
1 cup of jasmine rice
Ginger Spring Onion Sauce
2 sprouts of spring onion
1 thumb sized piece of ginger, coarsely grated (more if you like the ginger kick)
1 teaspoon of sesame oil
1 tablespoon of olive oil
1 pinch of chilli flakes
salt and pepper to taste
Method:
The Chicken
Wash, pat dry and season chicken with salt, pepper and sesame oil. Keep a piece of the chicken fat from the chicken for later.
Tie a piece of spring onion around the chicken and tie it in a knot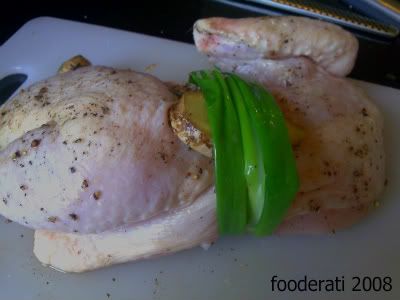 Tuck a few piece of sliced ginger and garlic under the spring onion. This will help infuse the chicken with flavour whilst it poaches
In a small saucepan, fill with enough water to cover the chicken
Once the water is boiling, pop the chicken in, boil on high for 10 minutes
After 10 minutes, turn the heat of, cover and stand for 30 minutes
After 30 minutes, remove the chicken from the boiling water (DO NOT throw out the water, you'll need this in a minute!)
Plunge the chicken straight into a bowl of cold water to stop the cooking process
Once the chicken has cooled a bit, remove, pat dry and rub with sesame oil and put aside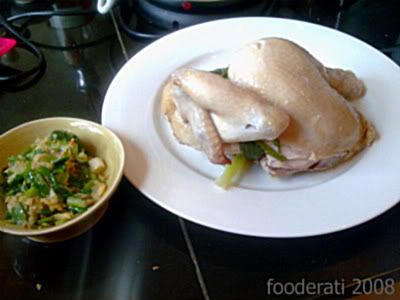 The Rice

Take that piece of reserved chicken fat and drop it into a hot wok with no oil.
Add 2 or 3 slices of ginger, 2 pieces of garlic and 1 stalk of spring onion to the wok and reduce the heat to medium
Once the fat has started to render, pop the cup of rinsed rice into the wok
Fry the raw rice for 2 minutes
Put the rice mixture into a rice cooker, along with enough stock from the poached chicken to cover the rice by 1 cm. Add a large pinch of salt.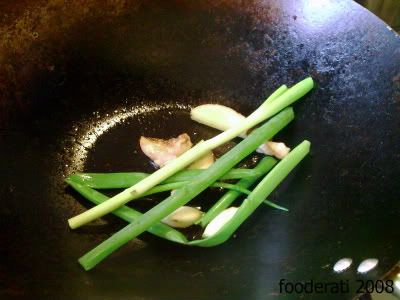 Ginger and Spring Onion Sauce
To a hot saucepan, add the sesame oil, spring onions, ginger and a piece of crushed garlic
Add the olive oil slowly and plenty of salt and pepper, turn the heat down to low and stir until the spring onions collapse
Serve the chicken with sliced tomatoes and cucumber, sweet soy sauce, some sambal olek and the ginger sauce


Soup


Boil the remaining soup stock and add salt and pepper to taste. It's that simple!