World Square Shopping Centre
Level 1, Shop 11.04, 644 George St
Sydney NSW 2000

Phone (02) 9264 6010
Fax (02) 9264 6013
Din Tai Fung. You've heard the name. You've eaten the soup dumplings (and if you haven't why the hell not?) But have you tried the Pork Floss?
Yes. I said it. Pork. Floss. Two words in the Engrish language I never thought I'd say mention in the same breath. For the official definition,
read this
.
But there it is on the menu: Silken Tofu with Pork Floss and Preserved Egg.
It had to be tried. And here's what it looks like: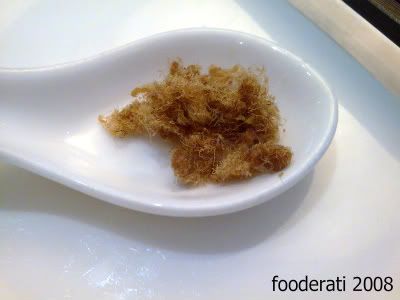 Honey-hued, original texture-obliterated goodness. Kind looks like carpet fluff. My mother tells me as a child growing up in Singapore, you could buy it as a snack from the local corner store.
So what does it taste like? Sweet and smoky like Char Siu, but with the texture of fluff. Kind of melts in your mouth like Cotton Candy. It actually went really well with the cool, smoothness of the tofu and the rich, earthy taste of the preserved egg.
Not sure if it'll replace Burger Rings, but it sure is tasty.