The official list is out. Do you think they got it right?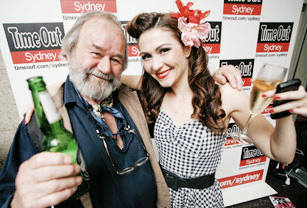 BAR OF THE YEAR
Ivy
BEST NEW BAR
The Beresford
PEOPLE'S CHOICE AWARD
Time to Vino
HALL OF FAME AWARD
Hotel Hollywood
BEST SMALL BAR
Winner: Safety Wolf
Joint runners up: Bodega Bar and Sticky
BEST COCKTAIL BAR
Winner: Bayswater Brasserie
Runner up: Lotus
BEST WINE BAR

Winner: Bentley Bar
Runner up: Aperitif
BEST PUB
Winner: The Australian
Runner up: The Lord Dudley
BEST DESIGN
Winner: Ivy
Runner up: Victoria Room
BEST BAR FOOD
Winner: North Bondi Italian Food
Runner up: Bennelong Bar
Check out the photos
(courtesy of the talented Mr Dan Boud)...I love it when food industry peeps have a piss up.