As published in Time Out Sydney Magazine
185 Avenue Road
MOSMAN NSW 2088
02) 9969 8999
Opening hours:
Mon-Fri 6.00am – 5.00pm
Sat-Sun – 7.00am – 5.00pm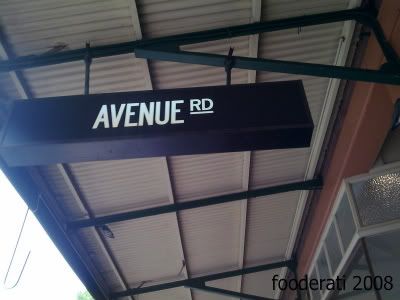 Mosman. Land of the bleach blonde hair, ladies who lunch, small dogs, Bugaboo baby strollers and very large SUVs. They're a fussy bunch. But with a selection of top-notch patisseries, delis, cafes and various providores with finely manicured reach, why wouldn't you be?
Avenue Road is situated (no points for guessing) on Avenue Road, running off the main drag in Mosman. This chic-though-tastefully dishevelled locale is a study in casual café dining, but with a hint of 'fancy' pitched in for good measure. Here you'll find an inviting place to park your stroller, or just your arse and enjoy a dignified breaky or lunch.
There are outdoor tables with comfortable banquettes for people watching and seating inside the cosy dark-wood interior should you prefer. The vibe here is relaxed and unpretentious, with a mixed crowd of hip mums and locals as well as the ladies who lunch.
Service is prompt and efficient, if a little brisk but the café is buzzing and so are the wait-staff to attend to everybody. Caffeine addicts north of the bridge will be happy to know that the coffee here is pleasingly kick-ass. Smooth, mild and well roasted. Avenue Rd are also one of the only cafes in Sydney to use South Australian Rio Coffee – think of it as Campos' southern cousin in flavour and strength.
The menu is succinct with lots of killer and very little filler to be found. The menu moves from inventively substantial salads to heartier fare, so there's sure to be something to please the fussiest palate. There are also regularly rotating specials based on seasonal produce on offer.
The Corn Fritters with House-Cured Ocean Trout topped with dill and crème fraiche; is a seriously well-balanced dish. For once, a café has acknowledged that corn fritters can be substantial on their own without the poached eggs many seem hell bent on serving with them. The fritters steer clear of stodgy territory and are light, crunchy on the outside and full of flavour. Squished between each fritter is an avocado salsa, seasoned with lemon tartness and a hint of chilli warmth. This is all topped off with the most vibrant-looking cured Ocean Trout you're likely to see. Smokey, salty and rich, kudos to Avenue Rd for being less predictable and going for something other than Smoked Salmon. And making it themselves, no less.
Winking suggestively from the menu is the Roast Pork and Apple Sandwich with glazed Balsamic Rocket on Sourdough. Sounds heavy, taste's heavenly. The best way to eat this is to pick it up and eat it with your hands, so don't be shy. The bread is light and the fillings are lush. Apples and pork are match made in heaven. Here, the apples are caramelised and squished between the tender roast pork, subtly flavoured melty Saracino cheese and balsamic-drizzled rocket. This is delicious, flavoursome comfort food.
Unfortunately, the crackling isn't as crisp as it should be, but overall, it's a polished, but satisfyingly rustic sanga.
At $36.00 for two people, this may be Mosman dining, but they're refreshingly not Mosman prices.