where: centennial parklands dining
when: february 4, 2009
why: an introduction to the Emirates Airline sponsored taste of sydney festival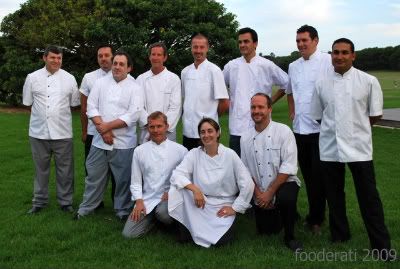 When there's a PR launch, there are several things that you can guarantee:
1. Heaps of booze (in this case, Chandon Pinot Rose, sparkling wine and James Squire beer)
2. Goodie bags (if you're lucky)
3. Heaps of chicks getting smashed and hoping to be photographed for the social pages
4. Canapes
Whilst all of these were present last night, the latter was in especially splendid supply...not in the least because the festival (held between March 12th and 15th) is a herding together of some of the hottest restaurants in Sydney - 15 of the best in one place with their head chefs doing what they do best: Being culinary geniuses and then telling people how to replicate.
In all seriousness, some of the luminaries at the inaugural Sydney edition of the fest are chefs such as Justin North (becasse and etch), Matthew Kemp (balzac and the burlington), Armando Percuoco (buon ricuordo) and George Francisco (jonah's at whale beach) to name but a few.
(below, beetroot macarons with a foie gras by Mark Best from centennial parklands dining)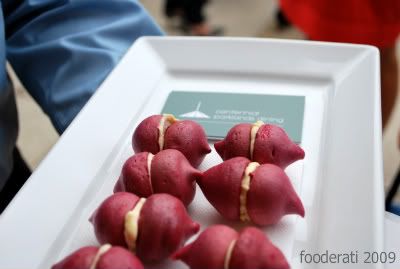 Highlights include the pastrami of kingfish with earl grey tea smoked oysters and a cucumber and apple salad from Jarred Ingersoll at dank street depot, etli borek - crisp home made filo rolls filled with braised veal shank, currants & pine-nuts, served with pomegranate and yoghurt sauce by Serif Kaya at Ottoman (which were pilfered so quickly I couldn't get a photo)
And then there's the panacotta from jonah's at whale beach: It is said that a good panacotta should wobble like a woman's breast. In this case, it did. And it was good. Melt-in-your-mouth creamy, flecked with vanilla bean and served with pommegranates and molasses and lavender honey,most definitely a decadent, sex-bomb dessert.
Props to Sarah Champneys, executive assistant to Centennial Parklands Director Steve Corbett, who allowed me to take this rather illustrative image: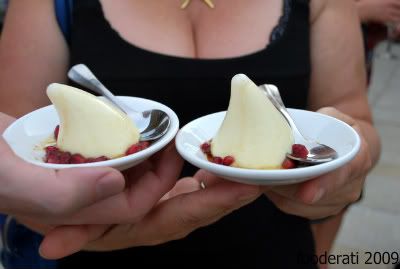 Here are some of the other amazing creations you might see if you head to the festival:
spicy pork sausage betel leaves & pickled ginger by Martin Boetz at longrain:
mini organic grass fed wagyu burger by Justin North from becasse and etch:
...and the aftermath: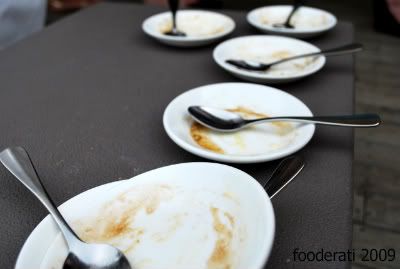 ...a special hi to some of the doyennes of food blogger land; chocolatesuze and jenius - great to finally meet you in person! Thank you also to not quite nigella for the dishy details.