As published in 3DWorld Magazine
354 Bourke Street, Darlinghurst
02 9357 1111
A new contender for Sydney's favourite new venue has opened in Surry Hills much to the adoration of locals and barflies alike.
The recently revamped Beresford Hotel on Bourke Street has caused quite the buzz since it's opening. And for good reason: A heap of time, money and taste and have gone into transforming this place from seedy to sexy. From the swan chairs to the artfully sloping bar, the heavy hitting drink list and even the tricked-out toilets: Everything has been carefully thought out and executed to great effect.
The thing about The Beresford is whilst it may be sprawling and multi-sectioned, serving as a bar, pub, beer garden and bistro, you'll find it unlike many establishments of similar description: this one has style.
The bar serves up concoctions designed by Sydney cocktail alchemist Alexx Swainston, and the spirit list includes and impressive number of top shelf tipples sure to please the most seasoned of alcoholics.
Head on through to the bistro, commanded by ex-Lo Studio chef Danny Russo and you'll find a plethora of kick-ass dishes designed to be equal parts Italian and delicious. The menu runs the gamut from classic to more left of field, all with a luxe twist and a focus on quality produce. And joy of joys, they take bookings – nearly unheard of in Surry Hills.
Start with a glass of wine, the menu is divided into 'cheap', 'decent' and 'good' – demystifying wine right here and now. Try the Kooyong 2007 Chardonnay if you're a white wine drinker, it's the perfect citrus-aroma antidote to the summer heat.
We commence noshing with the Kingfish Carpaccio with Fennel, from the specials menu. The fennel's crunch and aniseed flavour contrasts well with the soft texture and subtleness of the fish. The Calamari Fritti is also definitely worth a try; no chewy rubbery bits here; just tender, melt-in-your-mouth pieces of calamari in a crisp crust.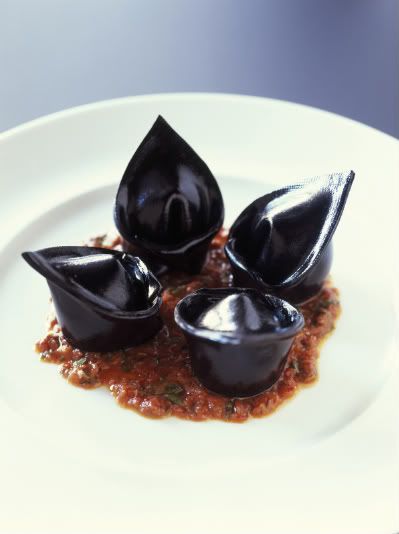 The pasta menu is hard to pass up, and contains a few favourite stylings carried over from Russo's time at Lo Studio like the Squid Ink Tortellini, Crab meat, Roast Tomato, Lemon and Caper Sauce. You only get three tortellino, but it's all you need. These are some fat seriously plump little dumplings filled with rich crab meat such as these. The zesty flavor of the sauce cuts the richness of the crab, and the overall effect is satisfyingly rich without being cloying.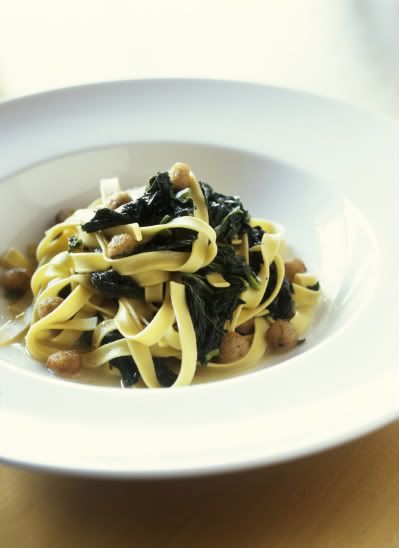 The Tagliatelle, Truffled Meatballs, Cime Di Rapa and Parmesan isn't your usual (say it in a fake accent) "Spaghetti and Meatballs". Firstly, the meatballs are chickpea-sized and kind of resemble jelly-tots. Cute meat? It certainly seems that way. Secondly, the entire dish emits a heady aroma that only comes from a generous slurp of truffle oil. (It's almost overwhelmingly munificent, but if you love those pig-frenzied pieces of gold, then you'll like this dish.) The wilted Cime Di Rapa (aka. Broccoli Rabe, or Rapini - think sharper flavoured spinach and you're on the right track) adds some much needed green and the long noodles are perfectly al dente, making this a rich, though comfort meal-esque dish.
If meat's more your thing, the crisp skinned Slow Roasted Pork Belly with Fennel, Potato and Cippoline may look relatively conservative in portion size however it's more substantial than it looks. The perfectly cooked meat is topped by the satisfyingly salty crunch of crackling and the vegetables are perfectly cooked. A winning interpretation of 'meat and potatoes' if ever there was one.
Dessert is a minefield of tempting options. The Zuppa Inglese is already a local favourite, for its tiny peaks of meringue and individual copper pot presentation and of course the gelato is deliciouso. Special mention goes to the cheese platter, which gets points for a selection of quality Italian cheeses, served with muscatels, honeycomb and candied citrus.
A full three courses here may not be cheap (including wine, around $100 p.p), but its well worth a try and it is most definitely delicious. Surry Hills may not have needed another new bar, but The Beresford looks like one they won't be able to do without.
(images courtesy of Wasa Media, Petrina Tinslay & Andrew Jarvie)