Shop 8
8 Quay St
Haymarket 2000 NSW
http://www.menya.com.au/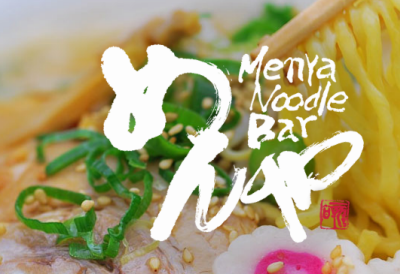 If you've ever visited that infamous "handmade noodle place" on Quay Street, I can guarantee at some point, you've looked at the rather schmick-in-comparison Japanese noodle bar next door and contemplated going in – (even if for a few seconds) before being lured by the sexy hanging plastic grapes and carpet-clad walls of Chinese Noodle Restaurant.
After giving the waitress outside Chinese Noodle (aka. Handmade Noodle, aka. Meat Filled Buns) an apologetic shake of the head, we veer to the left and walk into Menya: probably one of the most overlooked ramen joints in town. Menya is clearly different when it comes to its comparison with the rest of the eateries in this little enclave on Quay Street. Yes, there are noodles and dumplings, but we're talking Japanese territory here: This is Ramen town, bitches.
The sleek interiors, including a long dark wooden communal table, stainless steel surfaces are a world away from the clanging of pots and yelling of orders next door. In fact the closest you'll get to shouting here is a chorus of "Irashai Mase!" from the impeccably polite Japanese staff upon entering. I know it means 'welcome' but I have a feeling there's an undertone of 'thanks for choosing us over next door', too. The menu is classic casual Japanese eatery fare: Ramen, Soba and Udon varieties, as well as rice dishes, dumplings and a small selection of sushi and sashimi. Being in the heart of Chinatown, aka stronghold of the student population, the menu is reasonably priced, from $1.50 for sides to $23.00 for a full-on bento box experience. There are a few questionable selections such as the Kogashi (spicy cheese ramen) – but it's more a reflection on Japanese culture's unique take on Western food rather than a quirk of Menya's own.
My dining companion chooses to go with a classic tonkotsu ramen, the rich pork flavoured broth is filled with al dente noodles, chunky pork slices, finely sliced spring onions as well as a few slices of that questionable Japanese seafood stick with the pink manga-like swirl through the centre. The seafood sticks get left behind, but little remains of the rest of the meal.
The teriyaki fish bento box gets the vote: Grilled teriyaki salmon, served with salmon sashimi, sliced pork, rice, salad and dumplings: Now that's a mouthful. Fortunately it turns out to be a well-balanced combination of substantial (the fish and rice) as well as lighter, fresher dishes; resulting in feeling satisfied at the end rather than simply stuffed.
If overeating isn't a problem for you – then for $29.90 you can take up the Godzilla challenge: Over 2 kgs of noodles and 30 minutes stands in the way of complete ramen domination. And your lunch for free. Few have managed to stomach it, but if you do I applaud you.
For the rest of us mere mortals however, Menya is still a great place to grab a low key Japanese meal with enough variety to keep the decision dilemma between Chinese Noodle Restaurant and ramen alive for quite some time.
(image from
Menya.com.au
)