A recent trip to Melbourne for an engagement party allowed me to venture south for the weekend and navigate around some new finds and old favourites of the gastronomic variety.
If there is one thing Melbourne do well (and there's more than one), it's creating accessible, comfortable places in which to pull up a pew and have a meal. There really does seem to be an innate understanding that customers don't find copious amounts of stainless steel, laser-cut Perspex light fixtures and white, white, white a desirable ingredient when it comes to experiencing good food.
Atomica Cafe
268 Brunswick St
Fitzroy 3065
(03) 9417 425
5
After an early morning flight from Sydney, we are met by the very talented
Jordana Maisie
, Sydney-based new media artist in Melbourne for the Melbourne Art show. We head directly to Atomica Cafe in Fitzroy – a favourite haunt of mine renowned for great coffee and generous servings when it comes to breakfast.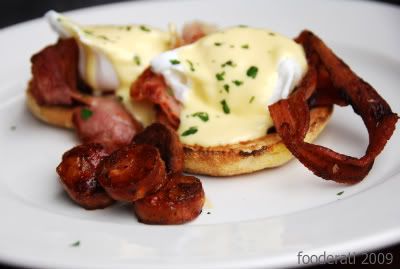 We arrive in time for a batch of smoked salmon, spinach and goats cheese quiches to be whisked out of the oven... it's all about crisp pastry and soft, gooey filling. Mind you, this is just a pre-breakfast snack.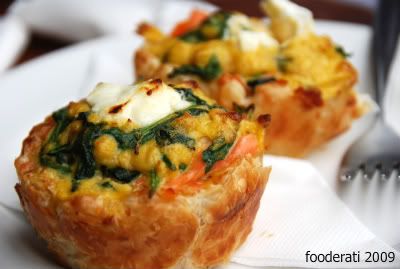 After settling on the Spanish omelette and eggs Benedict, we're perfectly set. Like the eggs. If you're going to cook eggs, you'd better do them properly (and there is more than one cafe in Sydney who can't). Here, the yokes are runny and of an orange hue and the omelettes were neither rubbery nor underdone.
Shopping takes us into the city for a Rudd-funded splurge on Flinders Lane, Little Collins and Centre Place for Melbourne treasures from Extinct, Genki, Kinki Gerlinki, Cyberia and more. By early afternoon, pooped and hungry, what better a pick-me-up than roast duck noodles and congee from Chinatown?
An epic fail on my part as I don't recall the name of the little dive we found, suffice to say that the same can always be said when looking for authentic Chinese food: Look for an establishment containing at least a 60% Asian dining contingent and you should be right.
The duck's crisp skin covers tender, meaty flesh and the noodles and greens are perfectly al dente. I only ever order pa dan sao yuk chook (preserved egg congee with pork) and this one has generous chunks of egg (at least 1 whole egg!) for that earthy, pungent fragrance and flavour.
Orange
126 Chapel Street
PRAHRAN 3181
(03) 9529 1644
Feeling a little green around the gills, the morning after the night before, but I am determined to soldier on. There are many more shopping and eating destinations to hit and a hangover isn't an excuse!
Orange cafe looks like a more worn-in version of Ash Street Cellars (in the Merivale behemoth that is the Ivy), Sydney. Think Parisian chic meets New York's Pasti's cool.
A hardworking cafe slash wine bar slash restaurant, breakfast is served by some very dapper waiters with manicured mo's and snappy dress style. It's all about chipolatas, poached eggs and bacon to sooth jangled nerves...and the coffee here (as always in Melbourne) is reliably good.
Ay Oriental Teahouse
455 Chapel Street
South Yarra Vic 3141
Still not satisfied with a bank-up breakfast, Yum Cha seems to be calling. And whilst Chinatown is nowhere in sight, South Yarra's Ay Oriental Teahouse is. It's a bit like a mullet (business in the front, party in the back), there's a tea shop in the front and a bar slash restaurant at the back and upstairs.
Sexier than your average yum cha, Boo Boo – the vibe is blended with equal doses of 'hip Melbourne bar' and 'chic tea house' rather than your stock standard yum cha decor of salmon walls, lurid carpet and noisy acoustics.
The food is a combination of traditional Yum Cha, along with dishes that Australians seem to demand are present anytime Chinese is on the menu such as Peking Duck pancakes and Xiao Long Bao.
Most amusing is the non-Chinese wait staff (equal opportunity laws?). My dreadlocked waiter asks me "Would you like a football dumpling?" – aka Harm Soi Gok (those fried glutinous dumplings with pork, chive and dried shrimp within).
Pick up some tea on your way out...there's a tincture and blend for every ailment...if nothing more than to aid digestion.
Aix Creperie
24 Centre Pl
Melbourne 3000 VIC
Generous, and thicker than an average crepe...but if you're hungry for the quintessential cafe experience in inner-city Melbourne, you'll do well to visit Centre Place and Aix Creperie.
From sweet lemon and sugar to savoury prosciutto, spinach and ricotta, there's bound to be a creation that will tickle your tastebuds. The Vittoria coffee isn't my favourite bean brand, but the guys here seem to make it work.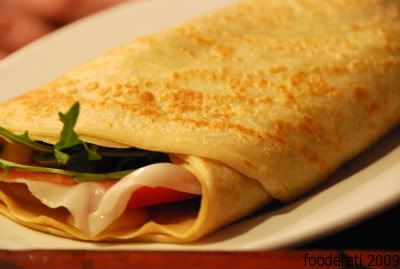 Gertrude Street Enoteca
229 Gertrude St
Fitzroy 3065 VIC
...shuts on Sunday evenings. Just so you know. Rookie mistake on our part that we didn't check but on Monday lunchtime, this place is abuzz with fashionable Fitzroy mamas and creative types perched on box seats and in booths admiring Enoteca's impeccable wine collection.
Ex-wine distributors, these guys know their Nebbiolos from the Tempranillos and beyond... but if its coffee and lunch you're after, you'll find they do this too, with great aplomb.
It may be more common for people to give a damn about quality and produce in Melbourne, but it's always a pleasure to see people so passionate about what they sell.
Inkr 7,
7 Inkerman St
St Kilda 3182 VIC
Phone: (03) 9534 6011
Across the road from the plush cashmere fuzziness of 8 Inkerman, you'll find Inkr 7. It makes sense...these shops named after their street numbers and names...clever chaps.
If a bit of respite from the city is what you're after, you'll find it in the courtyard of this chilled out St Kilda cafe.
All the right ingredients are there: great coffee and atmosphere...and they serve a mean chicken noodle soup – the kind grandmothers make: tender pieces of chicken, parsnip, carrot and celery in a clear broth with abundant noodles...served searingly hot with Turkish toast. On a rainy day, you'll find nothing else as comforting.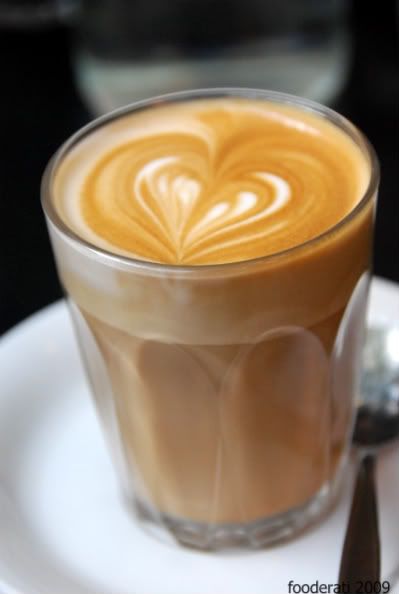 Vince and the guys treat everyone here like locals and you certainly feel at home relaxing in the courtyard out the back.
MoVida
1 Hosier Lane
Melbourne 3000 VIC
This much lauded inner city laneway tapas joint shows no signs of slowing in terms of popularity. The very lovely door chick apologetically tells us that for tables over 4, there is a 7 week wait list for evenings. The lesson here is to
book
to avoid disappointment. Her insider tip (Danica...sweet girl) is that if you arrive early in the evening, there are tables reserved for walk ins. So if you like to live on the edge – this is also an option.
At midday on a Monday, there are at least a dozen people waiting outside for MoVida to open. Feigning interest in the
Fafi graffiti
on the opposite wall, I pretend not to be one of these desperate people...but I am.
We put our name down for 2pm and return for our MoVida experience.
The service is smooth and good looking. And the food lives up to the hype. The anchoa, hand filleted Cantabrian artisan anchovy on crouton with smoked tomato sorbet are a must, even for anchovy doubters. The flavour is smoky, salty and tart, the texture is crunchy, oily and smooth. Yes, it is possible to have this all in one bite at MoVida.
The cigarillos of baby leek served with chicken liver parfait are a must for those who love pate...this one is a study in perfect balance: whipped like cloud, rich and flavoursome...and the cigarillos are just so damn cute.
Winter warmer tip? The fabada. Like a Spanish version of cassoulet, it's a stew made with butter beans, in a rich sauce served with perfect little portions of crisp pork belly, chorizo and black pudding. It's stick-to-the-ribs hearty and perfect with the Spanish Tempranillo Rosado.
In a (long winded) nutshell – it's as progressive as tapas gets in Australia. Trust Melbourne to have 'em.
Ladro
224a Gertrude St
Fitzroy 3065 VIC
Phone: (03) 9415 7575
Fitzroy certainly has its fair share of great cafes, shops and cultural cache. Ladro is yet another reason to ensure this suburb doesn't escape your attention. With a menu based on simple, easy Italian, made with fresh, quality produce; Ladro is a study in unpretentious, relaxed Italian dining.
The pizzas seem to be popular here – and they'd give
Pizza e Birra (Surry Hills)
a run for their money, but look further to the pastas and mains to find some real gems. The special of roast quail with Nicola potatoes, cabbage and Brussels sprouts manages to find the plumpest tiny birds, seasoned beautifully and served atop a pile of reduced cabbage and potatoes.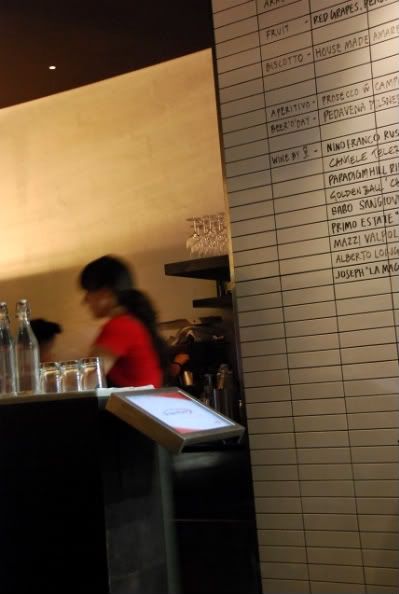 If you have pasta on the brain, try the ravioli, filled with prawns and peas with crustacean oil, dill
and parsley butter – delicately flavoured, it will be devoured rapidly.
Melbourne is waxed lyrical in reviews, song and such – and you'll find no complaint from this writer when it comes to the quality, consistency and variety that Melbourne has in spades. Whilst a few great food destinations have been covered here, chances are you could trip over and land on some place great just about anywhere in this town.