Phone (02) 9311 4116
Retro food can be a great thing. Over the past two years, we've seen comeback bids from old favourites such as iceberg lettuce, prawn cocktail, pate (though one might argue it never left) and more (personally, I want to see someone do Devils on Horseback).
There is, however a touch of irony in the presentation and a glint of humour in the eye of the diner when these are placed on the white tablecloth beside the folded swan napkin.
Danny's Seafood restaurant - a 30 year stalwart of the La
Perouse
coastline, possesses a tad more than a pinch of 80's
kitch
.
Arriving at the rather fashionable (for the geriatric set) dining time of 6.00pm to investigate Danny's value (half price) dining specials, it's "forgotten 80's" decor and atmosphere, complete with waistcoated waitstaff and fishtain ferns in hanging pots, might be construed as charming.
Inspection of the menu might suggest however, that range of dishes might not have changed since the 80's either. Given that the Greeks tend to do amazing things with seafood, one would argue that lobster
mornay
or
barramundi
and prawns smothered in thick, saffron tinted cream sauce might have been shafted in favour of cleaner, more Mediterranean flavours.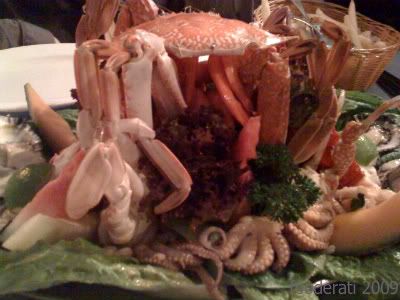 Danny's can't be blamed for a lack of a generous serving: the (sub zero degree) cold seafood platter for two is a whopping
behemoth
of blue swimmer crab, smoked salmon, oysters, prawns, marinated octopus, lobster and the greatest mass of
curly
leaf parsley ever seen by man. Or fish. Something does need to be said about quantity vs. quality. In this case, not much of the latter was on offer.
The uncomplicated grilled snapper emerges as the winner, proof that where seafood is concerned, simple is usually best. Shame we didn't order it.
Dessert options maintain Danny's retro flavour with creme caramel, creme
brulee
, sticky date pudding,
gelato
, bread and butter pudding and more. All served with cream and
ice cream
. Props to the
brulee
for a satisfying,
Amelie-
style break through the toffee.
Cynical digs aside, the numbers don't lie. This place is packed out at 7.00pm on a Saturday evening...proving that there are as many people in Sydney who are (clearly very) easy to please, as there are those with more evolved palates.