Shop 16,
425 Bourke Street,
Surry Hills
1300 134 986
When the banners lining Sydney's CBD street lights are splashed with red, white and green, this can only mean one thing: The Italian Festival has come to town.
Sydney siders are well versed in all things Italian, if the number of pizzerias, trattorias and "Mama Mia's" are anything to go by, but there's always room for more eating, drinking and dancing in this town so "Viva Italiano', I say.
Last night,
Formaggi Ocello
hosted its part of the festival to showcase their staggering selection of cheeses from France, Australia, and of course, Italy (to name but a few states of cheese heaven).
Guests were treated to a talk by Carmello Ocello about his dedication to the artisan craft. And then there was the cheese...with over 200 varieties to oggle, including Pont-l'Évêque, hand made cheeses topped with flowers and Holy Goat's La Luna, recently voted #1 Cheese (aka. Big Cheese) at the recent Vogue Entertaining and Travel produce awards.
No canapes here, but freshly sliced baguettes were topped with Ocello's fine produce including mascapone and hot smoked trout. Truffled mushroom arancini balls were consumed at a rate of knots, as were rolls were filled with tomato, buffalo mozzarella and basil. Finally, Ocello presented their own version of 'meat on sticks' - proscuitto de Parma wrapped around grissini - now that's gotta give a festival dagwood dog a run for it's money.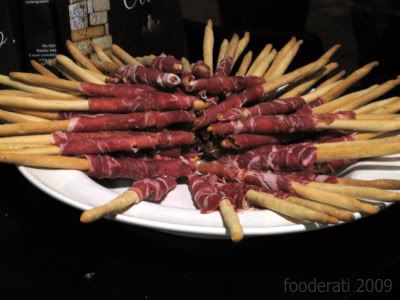 The Sydney Italian festival runs until the 8th of June, so check out the
website
for program details, including cooking workshops with Sydney's finest, dining specials and every bit of Maria Venuti.