The GFC may be making more than a few people nervous about the state of things to come, but the upshot is that many things -including airfares- are going for fire sale prices.
If you happen to be heading to Tokyo, here's an email I drafted for some friends who headed over earlier in the year.. it's an amazing place but one that requires a little research to get the best out of your experience.
A few tips from my experiences in Tokyo.
First stop, download and print out Tokyo's Superfuture City maps. Drafted by some of the coolest people in the know, if you're into fashion, design, art, food or culture, you'll want (nay, need) these:
Superfuture City Maps:
Tokyo
Get:
- Make sure you get a copy of
Wallpaper Guide to Tokyo
. Its small and handy to take around with you and loaded with unmissable shopping, cultural and design tips.
- If you in Tokyo for more than a few days, get a
weekly pass
for the JR (subway), it works out a bit cheaper than buying tickets on the fly.
- A
subway map in romaji
(Anglocised
Japanese) - this will help you get around a lot easier on public transport.
Do:
- If you are there on a Sunday, make sure you get off the train at Harajuku station, turn right and walk towards the bridge that takes you into Yoyogi Park (the Meiji Bridge). Here, you'll find lots of crazy kids dressed up, posing for tourist photos..that's right, they're here for you. Look out for the old guy singing U2 covers.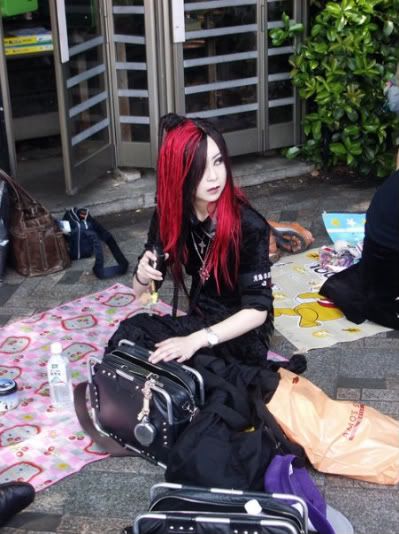 The Meiji shrine, inside the park is a haven of zen in a crazy city - beautiful and well worth the walk inside.
- Try Mos Burger and Freshness burger. Japanese burger chain takes on Western food with brilliant results!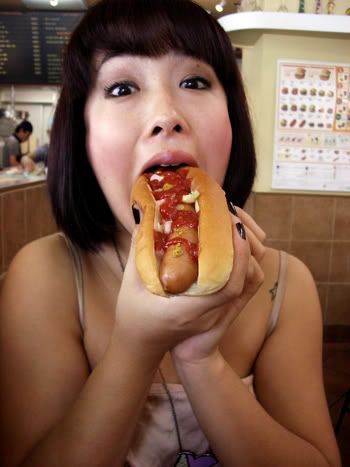 - Eat hot dogs from street stalls. The guy below (ex-navy) spoke perfect Japanese beneath his Uncle Sam hat.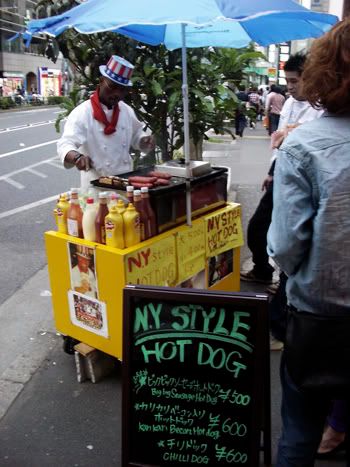 - Take a camera everywhere..especially for random people sleeping in cafes and funny translated signs.
Food:
Check out
my blog entries
for more food finds.
Where and why you'd go there
:
Shinjuku
for crazy sneakers, the crossing filmed in Lost in Translation, and everything from cute undies, t-shirts and hats. Visit Tokyu hands for a deparment store that has EVERYTHING.
Aoyoma
for designer stuff and amazing store architecture - bape exclusive, y3, miu miu, tsumori chisato, comme des garcon, etc. Don't buy food or eat there unless you want to pay $7 for a coke or coffee.
Harajuku
for cheap thrill gifts, crazy atmosphere and a Camden market (London) vibe. Walk right down and the road will take you up to Omotesando, past the Marc by Marc Jacobs store and out to the front of the Colonial looking Ralph Lauren building.
Omotesando
(a boulevard starting from Harajuku station and heading away) for the Tods, Dior, Bvlgari and other design-consious buildings. Here, you'll also find Kiddy Land. Not nearly as creepy as it sounds, it's a multi-storey Japanese toy bonanza. If you can't handle kids, crowds or pastel colours, walk away, FAST.
Turn down the lane beside the Bvlgari, hang a right at the Lanvin store and find the best dumpling house in Tokyo.
On the street level of Omotesando Hills (a shopping complex), find Forbidden Fruit - a juice and hot dog cafe. The German hot dog, stuffed with sauerkraut and fried onions is heaven on a bun.
Ueno
for market stalls selling everything from perfume, shoes, hats, amazing t-shirts..and fish? Amazing vintage camera stores abound (you may find that vintage Leica you've been looking for)..look out for basement and hidden away stores above street level.
Meguro
for really cool design and furniture stores, vintage clothing and Americana as well as a steak house with a WWF theme. Stop at the Claska for breakfast/dinner/lunch/drinks - its where the uber cool Tokyo set come to play. Dogman (cute dog grooming parlour) lives here too.
Shibuya
has a bit of everything - like Tokyo condensed.
Roppongi
nightlife. There are plenty of bars and clubs in this upmarket area if you want to throw down a few and party.
Ginza
primarily a CBD area, there are also a lot of upmarket shops in this part of town. Think the well-heeled masses and their designer get-up.
Tsukiji
one of the greatest fish markets in the world..and most of it is open to the public. Wander around and oggle fresh fish, other ocean produce, piles of smoky bonito flakes, the rare, the large and the bizarre..and the best part? Being able to eat sashimi before 8am. Not everyone's cup of tea (or should I say, 'plate of fish') but it is certainly an experience you'll never forget.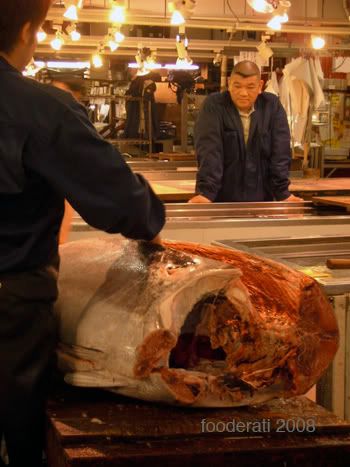 Places to stay
Mackin' it
There are of course, the predictable 5 star numbers you can rest your weary bones at, but if you don't mind staying a little way out, I'd recommend the Claska. It's one of Tokyo's only boutique hotels and houses 9 individually designed rooms, restaurant (the very hip Kiokuh) an art gallery, bookstore and dog grooming salon (Japanese dogs are SUPA KAWAII and very well behaved!). If you're lucky, the ladies will even let you play with their fluffy clients.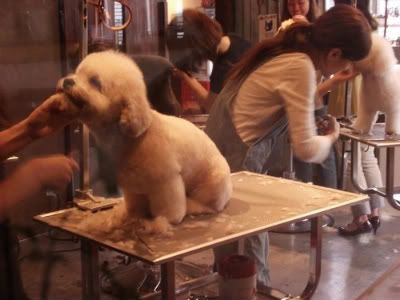 http://www.claska.com/en/
Depending on the exchange rate, it's a few hundred $AUD a night but the service (and the food in the restaurant) are impeccably boutique Japan. Worth going for a meal at Kiokuh even if you don't stay.
Areas
If you want to stay a little more central, look for accommodation in the following suburbs:
Shibuya, Shinjuku. Areas like Minato-ku and Chuo-ku (which house the Roppongi and Ginza districts) are choc full of hotels..and are not too far from where you want to be.
Ryokans
If you're after the 'traditional' Japanese experience, there are Ryokans (small Japanese inns) which offer the experience of staying in a more homely environment and these are often a lot cheaper (and more basic) than the hotel option.
Two good ones in relatively central locations (be wary..lots of ryokans are in out of the way places, away from central Tokyo):
Kimi (Ikebukuro):
http://www.kimi-ryokan.jp/
Tama (Shinjuku):
http://www.tamaryokan.com/
Lastly,
Speak (absolute essentials):
Sumimasen (soo-mee-mass-en) - sorry/excuse me
(subject) Onegaishimasu (oh-knee-guy-she-mass) - please (add it after you ask for something.)
Hai (high) - yes
Iie (eee-yeah) - no
So that's it! The basics of getting around Tokyo according to Fooderati..hope you find them useful!