22 Glebe Point Road
Glebe NSW
Australia 2037
+61 2 9566 2112

Pork really has had a huge slogging in the press lately. I mean, seriously what did these cute, tasty little friends do to deserve such a bad wrap? Someone recently said to me that half the world's problems are related to people who traditionally don't eat the princely porcine...and whilst that's a sweeping (and very un-PC) generalisation, it is about time to bring peace (and pork) back on the world's menu.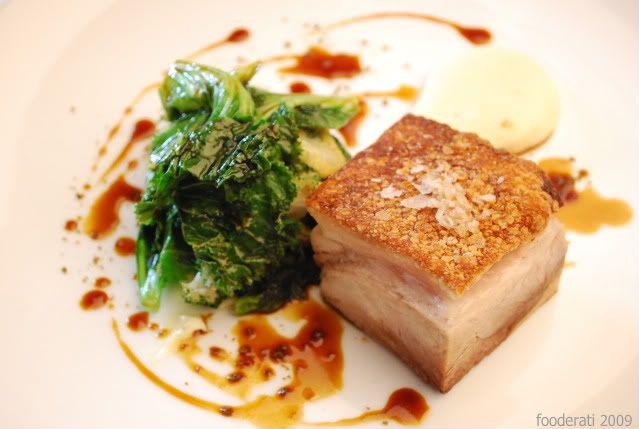 Aussie farmers haven't had a great time over the past decade either, and in particular, pork producers have been battling to make it clear that all Australian pork is free from H1N1 (which is a human virus and not transmitted by pigs) and perfectly fine to eat.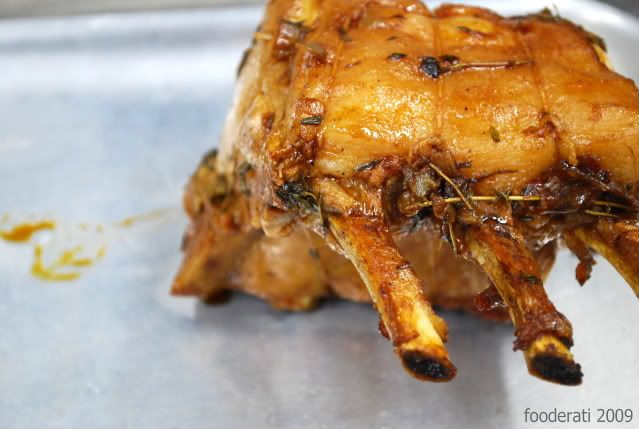 Coming into the cooler months when heartier food warms the hearth and the heart, there's nothing better than biting into crisp crackling and tender meat - those northern hemisphere dwellers certainly are lucky that it's actually cold at Christmas.

To this effect, Australian Pork put on a yultide celebration of great Autralian pork produce at Restaurant Atelier in Sydney's Glebe, complete with spangled wreath on the front door of the iconic terrace house venue.

Chef Darren Templeman (a Yorkshire boy who knows his way around a pig or two) and his capable kitchen regaled guests with pork neck rillettes, an assiette of honey-glazed pork hock cut with the tartness of apples, grilled pickled loin of pork and (the crowd favourite), the pulled pork neck salad with Crystal Bay prawn. Given the bad wrap I've apparently had for pulled pork, I'm very happy to say it was satisfyingly relaxed, tender and contrasted well with the firm texture of the prawn.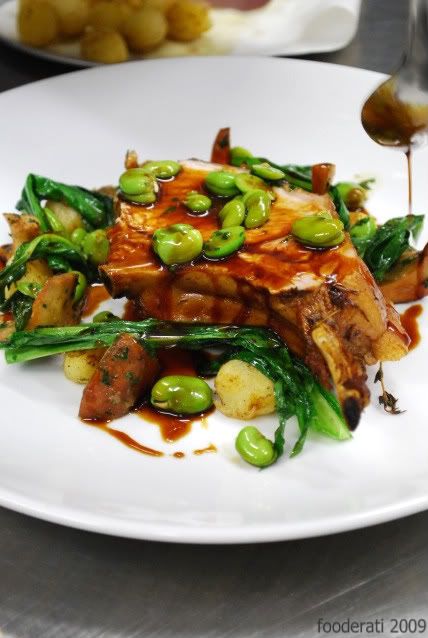 If the pork party on the plate for entree wasn't enough, the boned shoulder with winter herb cure and pot-roasted rack would certainly have pushed people over the edge into pork perfection - the rack especially showcasing the fact that moisture-infused pork can be haute as well as hot.

Diners sipped matched wines from..you guessed it, Piggs Peake winery. Steve
Langham
(aka. Boss Hog) was on hand to lend some colour to the room with his neon bright shirt and great sense of humour, not in the least exhibited in the names of his piglets (his wines). Sowvignon blanc anyone?

A yultide dinner to be remembered...at least until December.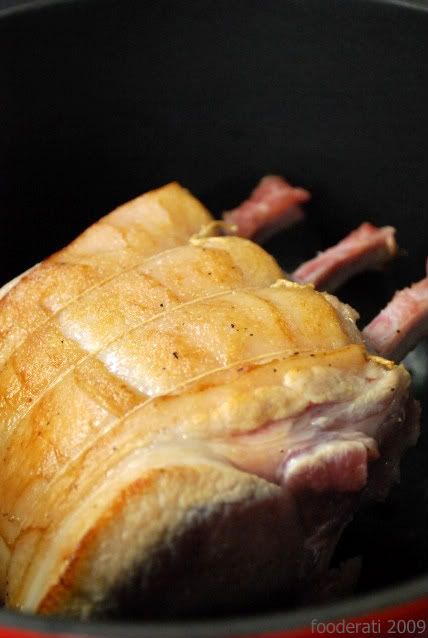 A special thanks to the bloggers (you know how you are!) who were on hand to snap everything that moved, sparkled or vaguely resembled anything edible...your dedication to the persuit of sharing great food is an inspiration! The gauntlet has been thrown down - what will you do with the rack of pork you recieved in your goodie bag?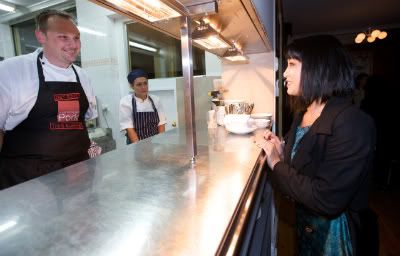 (image: Darren imparting much needed pork-knowledge to hungry ears)