Soup season is well and truly upon us, so here's another to add to your arsenal of cold-fighting, belly-filling, toe-warming recipes.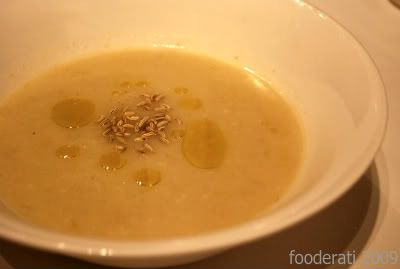 Ingredients:
Soup
1/2 bunch of celery, coarsely chopped
2 garlic cloves, smashed
1 celeriac root, peeled and chopped
4 Dutch cream potatoes
1 brown onion, chopped
900 mls of vegetable stock
1 carrot, peeled and halved
Salt and pepper for seasoning
1 tablespoon of goose fat
Fennel cigars:
1 sheet puff pastry
Parmesan for shaving
1 heaped teaspoon of fennel seeds
milk for brushing
Method:
Soup


On medium heat, fry onion, garlic, carrot, celery and celeriac in goose fat until the vegetables have softened and become translucent.
Add vegetable stock, potatoes and top with two cups of water
Bring up the temperature to simmer
After an hour or so, the soup should have reduced by about a third
Remove carrots and puree the contents using a hand blender, season with salt and pepper to taste (the carrot's purpose is to add flavour to the soup, and can be discarded and used in something else at this point).
Continue to simmer for 20 minutes or until you've reached a satisfactory thickness. You can add a long dash of cream if you want give the soup a creamier texture.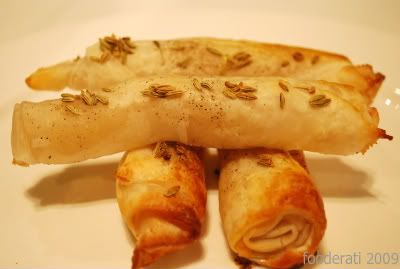 Fennel and
Parmesan cigars
Cut pastry into four long strips
Season with salt and pepper and add shaved parmesan
Roll it up!
Brush with milk and press a pinch of fennel seeds into the top
Bake in the oven for 20 minutes or until golden and crisp
Serve with the soup. The fennel seeds release their oils into the pastry in the baking process and the ainseed flavour works well with the creamy celeriac. A great vehicle to dip into soup.