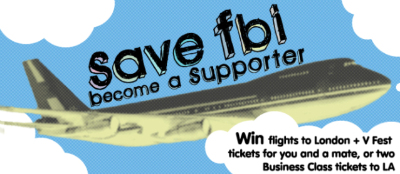 For those of you who live in Sydney, you'll know FBi radio as a young, independent voice amongst the radio world. Purveyors of new music talent, with fingers on the pulse of what's hot to trot, and not. They're even kind enough to let me ramble about food on my segment at 4.30pm Fridays, with Sweetie and Shag.
A lack of funding means that this thoroughly brilliant station is at risk of closing down, meaning one less channel of original thought to keep you alive in your office, car or home. Not normally one for throwing out a hand to ask for money, if you do have a heart and a few loose dollars spare, there is something you can do to support FBi.
Simply click below to find our more about:
1. The
amazing gigs
being thrown around Sydney to support the cause, including bands like The Paper Scissors, Urthboy, Decoder Ring and The
Midnight Juggernauts.
2. How to donate a
few spare coins
3. How to become an
FBi supporter
You can even win a trip to VFest in London on business class Virgin, or a business class trip to LA..courtesy of
Mr Richard Branson, himself
. Now THAT's a prize!