When Sunday breakfast calls for a something a little bit more special than googy eggs and toast soldiers (which are still pretty darn cool), here's an easy Spanish Omelette recipe you can prepare quickly. It's all about minimal effort and maximum compliments on Sunday mornings.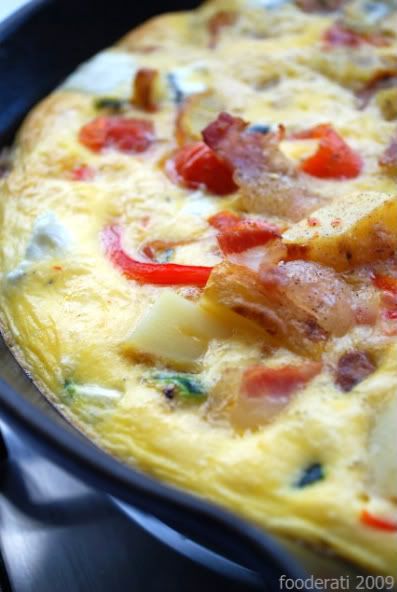 Ingredients
2 roasted dutch cream potatoes, coarsly chopped
1 roasted capsicum, skin off, sliced
6 or 7 cherry tomatoes, roasted
1 small zucchini, cubed
1/2 a Spanish onion, finely sliced
6 large eggs. I don't need to tell you they should be free range.
2 strips of flat pancetta, sliced.
A generous chunk of ash goats cheese
parmesan cheese for grating
a splash of milk
1 tablespoon of duck fat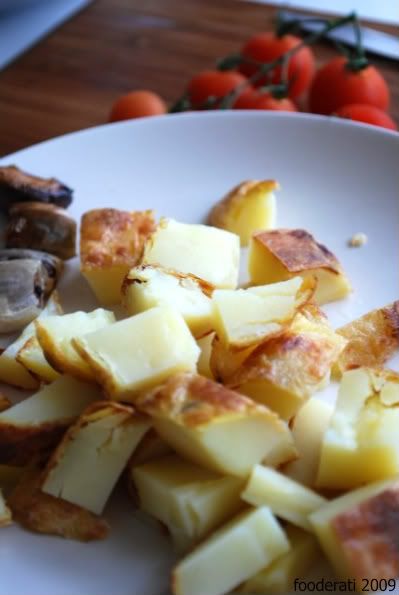 Method
If you're stuck for time, do this first bit the night before:
Peel and par boil potatoes for 15 minutes
Preheat an oven to 230 with a baking tray containing 1 tablespoon of duck fat
After 10 minutes, add the potatoes and half a head of garlic, with the tops chopped off
After a further 20 minutes, turn the heat down to 190 degrees and add the capscium, halved and cored and the tomatoes
Roast for a further 20 minutes and remove the tray from the oven when the capsicums and tomatoes have collapsed.
Keep the veggies in the fridge overnight.
In the morning:
Preheat oven to 190 degrees
Chop potatoes into large cubes, remove skin from capsicum and slice into strips.
In a frying pan (that can be put in the oven), on a medium heat, sautee pancetta, zucchini, roasted garlic, onion until the onion becomes translucent. There is no need to add oil if you start cooking the pancetta first, as the fat will render out.
Add sliced capsicum, potatoes and tomatoes
Beat the eggs in separate bowl, adding a dash of milk and season with grated parmesan, salt and pepper
Pour the egg mixture into the pan and crumble the goats cheese on top
Allow to remain on the stove at medium heat for 5 minutes
Put the pan in the oven and allow to cook for a further 15 minutes or until the egg has set
Remove from oven and allow it to cool slightly before running a knife around the edge to loosen the omelette.
Serve with sourdough toast and a strong cup of English breakfast.
Tip: make enough to keep leftovers...this one makes a great midnight snack.