As heard on FBI Radio
Each culture around the world has it's signature when it comes food. Derivation is often hotly contested, for example, the Chinese claim that modern Italian pasta originated from their noodles. While some of these claims are based in fact and others wildly accusatory, parallels do exist across cuisines.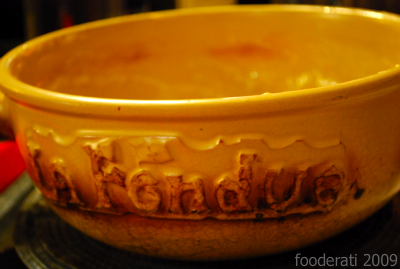 Take the hot-pot for example. The concept of taking ingredients and dipping them in a boiling stock or mixture at the centre of a communal table can be found from Japan to Vietnam and even Switzerland and Sweden. And best thing is they're perfect for winter feasts with friends. Here are three bubbling examples to try around Sydney:
Eiger Swiss Restaurant
552 Parramatta Rd
Petersham NSW 2049
Phone (02) 9564 1160
Fondue has such a great retro sensibility about it. And if you're a table of two or more, this is one 70's hangover you'll want to share.
A bubbling pot of cheese and a small mountain of bread is plonked on the table along with a water-filled recycled lemonade bottle, masquerading as water carafe. Clearly, it's no frills here, but the food is hearty and you may get a story or two from owner Alain; a transplant from Straussberg.
The traditional terracotta pot full of lava-like molten cheese is a combination of raclette, gruyere and emmentale cheese, combined with garlic and dry white wine and the idea is to take the crusty bread cubes, swirl them in the cheese and pop it in your cake hole. Mind your tongue - it is boiling cheese after all.
"While you're down there":
Try the smoked ham hock with potato rosti and sauerkraut. The hock is fall-apart tender, fragrantly smoky and the rosti/sauerkraut combo wins for 'best supporting side dish in a Swiss and/or Czech restaurant.'
Si Chuan Restaurant
246-248 Burwood Rd,
Burwood, NSW
Some like it hot...The term, when it comes to Sichuan food is 'ma la' - the 'ma' part refers to the numbing/tingling sensation you get from sichuan peppercorns and the 'la' part refers to the chilli-heat.
A steaming ying yang looking hot pot - split in two, half the stock is mild and the other is laced with nuclear-strength chilli and covered with a thick slick of chilli oil.
A variety of meats, dumplings and vegetables are supplied to you, so all that's left for you to do is choose your combo and dunk away - unlike fondue, you should let the ingredients bathe, jacuzzi-style in the stock before eating - and by the end, the stock has taken on all the flavour from the meat and vegetables, creating a richer broth.
$25 per person
"While you're down there":
Be prepared to sweat it out - Si Chuan food puts the 'hot' in 'hot pot'.
JuJu Japanese Restaurant
Shop 320, Bayswater Rd
Kings Cross NSW 2011
Phone (02) 9357 7100
According to the Japanese, 'shabu shabu' is the sound one makes when swirling the ingredients around in the hot pot. It's shoes off and sunken tables; head to Ju Ju's for:
- The friendly, often rowdy Japanese pub-style atmosphere
- Karoke
- Shabu Shabu (as opposed to Shamu Shamu...though the Japanese'd eat him too)
Ju Ju's shabu shabu is a solid example of the classic Japanese dish: The stock is clear and mild, ingredients are a bouquet of fresh, lively colours, accompanied by bowls of thick, white udon noodles and thinly sliced raw beef, fanned out on plates.
Unlike the Si Chuan hot pot, the stock is a gentler affair and the fun is in taking a shot of sake each time someone says 'shabu shabu' during the evening.
"While you're down there":
The plus side is that while you're waiting for your food to cook, you can sip plum wine or sake and belt out your favourite Pat Benetar or Tom Jones track on the karoke system.