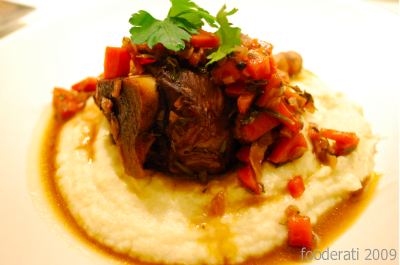 I was recently reminded of a story my editor at Time Out Sydney - Myffy Rigby wrote early on in her time at the mag. It was titled 'Shanks for the Mammaries' and was an
expo
s
é
on food in strip clubs and dancing joints around our fair town.
Whilst not nearly as risque, this lambshank does have one thing in common with the mainstream perception of strippers - they're easy as, bro.
Ingredients
1-2 lambshanks per person, depending on the size and your appetite
1 large carrot
1 medium sized brown onion
1 cup of veal stock
1 1/2 cups of red wine
1 celeriac
1 dutch cream potato
2 artichokes
1/4 cup milk
A generous splash of thickened cream
1 nob of butter
1 bay leaf
1 sprig of rosemary
1 sprig lemon thyme
Method
Sweat diced onion and carrot on a medium heat until the onions are translucent and everything is generally softened. Do this in a lidded pot that will hapily hang out in the oven and you've saved yourself a heap of washing up.
In an oiled, hot fry pan, place seasoned lamb shanks and brown all over.
Place lamb shanks in the pot, on top of the carrots and onions.
Add stock and wine and bring to a simmer.
Blanch the herbs and chop the rosemary and thyme. Add all herbs to the simmering lamb shanks.
Give everything a prod and put it in a preheated oven at 250 degrees.
After 15 minutes, turn the heat down to 100 and cook for a further hour. If you really want the meat to fall off the bone, turn it down to 80 and let the lamb sweat it out for 3 hours.
Whilst this is bubbling away, peel, chop and boil the celeriac, potato and artichoke. Don't forget to core the artichoke, otherwise things can get really 'hairy'. Sorry. That was lame.
Once all vegetables are tender, drain, leaving a small amount of liquid. Add butter, cream and milk along with white pepper and salt to season. Using an immersion blender (bamix), puree the crap out of it until it resembles a fine, silky puree.
(tip: Adding a potato to a celeriac puree removes the graininess celeriac can present, giving the puree a smoother consistency.)
Serve the shanks atop the puree - taste the jus and adjust the seasoning if required.
Seriously easy, tasty and perfect for the cool weather while we still have it.
Bon Apetito!