13 Burton st
Sydney NSW 2010
(02)9380 7002
http://www.pocketbar.com.au/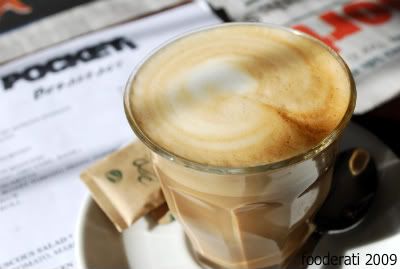 If you're heard it once, you've heard it a thousand times. Sydney. Not enough small, cool bars. Got it.
Whilst the trickle down effect of the small bars licensing in NSW may be hampered by GFC-near-escape nervousness, Pocket Bar has bravely stepped out, opening its own brand of cafe cum bar cum fucking cool hang-out.
Pocket's Karl and Kristoff have successfully gotten away with quickly creating that lived-in, graffiti-walled, chicly scungy vibe that takes most establishments years (and several OD's) to create. They've also made great use of local vintage furniture stores and next door neighbour
Outre Gallery's
kinky, left-of-centre artwork to complete the picture.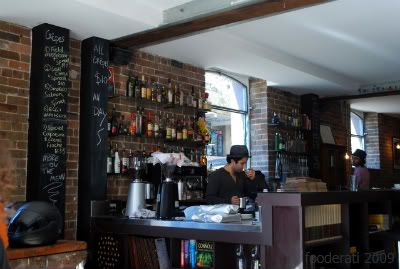 As a cafe, Pocket makes a great sun trap at the front, in which to sip a latte (skillfully cranked out by Mr. Johnny Lahood, ex-Adriano Zumbo) and an all-day selection of crepes, salads and panini. But back to the crepes, a solid selection of combos, perfect pancake thickness - not so thin that the fillings spill out and not too thick that you might as well be eating a sponge;
Aix Creperie
, eat your heart out.
When night falls, the chill factor winds down, replaced by a cooler-than-cool bar vibe, with the music and people to match. Surry Hills hipsters and Darlo divas aside, the pretention factor is minimal and they make a pretty good dirty martini.
So with all this in mind, what I'm about to say next will come as no surprise: Sydney needs more places like this (duh). Thankfully though, all signs point towards the fact that, ever so slowly, the landscape is changing for the better.