With all this unseasonably warm weather Sydney has been enjoying, what better way to make the most of it than by getting out there, for some much needed vitamin D? And while we're on the nourishment tip, nothing says 'spring' in Sydney, better than fresh seafood. Here are 3 ways to enjoy the weekend...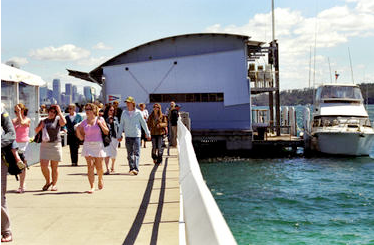 Watson's Bay and head to Doyle's on the pier for take away fish and chips and a patch of grass in the sunshine. If dining on the grass isn't your thing, head to the pub, pick up a prawn roll and your favourite schooner of beer and watch the sun set over the water. It'll impress the most jaded of us Sydney locals everytime. Walk off the beer belly with a walk through the national park or make a cameo in a Japanese tourist's holiday snaps around The Gap.
Doyle's on the Wharf
Fishermans Wharf,
Watsons Bay, NSW 2030
(02) 9337 6214
2. Sydney Fish Markets are always a hub of activity, but things seem to amp up when the weather gets warmer. Load up your picnic hamper by heading to Claudio's for super fresh sashimi, peachy prawns and a (few) dozen oysters, then to Blackwattle Deli for smallgoods, cheese, quince paste and all the trimmings, the bottle shop for a bottle of chilled prosecco...and as 'me mate Jamie' likes to say; "Happy days."
Sydney Fish Markets
Pyrmont Bridge Road, Pyrmont
3. Bondi is hosting the Taste Orange Festival this weekend - a showcase of great produce from the Orange region of NSW. It all culminates in a market stall on Sunday with food and wine as well as baby farm animals (to pet, not to eat), shearing and cattle dog demonstrations as well as local bands and other live entertainment. Best of all, it's FREE.
Taste Orange
Bondi Pavillion,
Bondi Beach, NSW 2060