(as heard on FBi Radio)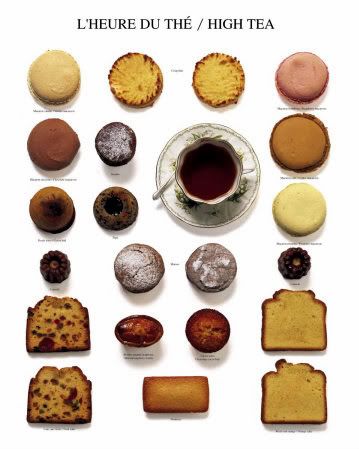 Who said Continental came up with '3.30-itis'? Made popular in England in the early nineteenth century by the Duchess of Bedford after she reportedly suffered from 'a sinking feeling' at about four o'clock in the afternoon.
What began as a private affair; tea and a light snack in the privacy of her quarters, she began inviting guests to join her for "tea and walking in the fields", serving them tea as well as small cakes, sandwiches, a selection of sweets. Quite the trend setter, it wasn't long before all of fashionable society was sipping tea and nibbling sandwiches in the middle of the afternoon.
Three places to get high (tea):
The Victoria Room
235 Victoria St
Darlinghurst NSW 2010
Saturday and Sunday afternoons see this opulent cocktail palace transformed into a tea salon of yesteryear. Champion of the high tea revival in Sydney, TVR has become popular with lovely ladies and dapper gentlemen alike.
Expect the full gourmet gamut of smoked salmon, rocket, lemon, capers or watercress, celery, walnuts & goats curd sandwiches to delicate hummingbird cakes, sparking wine and more.
When:
Saturdays 12.00pm - 5.00pm
Sundays 1.00pm - 5.00pm
Costs: From $38 per person
Sir Stamford
93 Macquarie St
Sydney NSW 2000
Fluffy scones, gourmet canapes and delicate miniature desserts topped off with a flute of champagne and your choice of Ronnefeldt Tea. They even have a tea 'master' on hand Igor Gouroulev, a Muscovite and passionate tea guru, to guide you through Ronnefeldt's extensive selection.
When:
Daily, from 1pm - 5pm
From $22 per person
The Loft
13 Lime St
Sydney NSW 2000
From tea-pot cocktails (T2 tea blended cocktails with names like 'Oolong Song' to chocolate dipped strawberries, canapes and cakes - The Loft's take focuses on their strength in cocktails as well as the classic high tea spread.
Bookings essential
From $35 per head.
2. Where to buy great tea for your place:
From rooibus to oolong, english breakfast to russian caravan and more, you'll find it here:
t2: 173 King Street, Newtown, and Shopping centres in Bondi Juction, Hornsby, Macquarie and Sydney Central:
www.t2tea.com
for details
Elmstock: Shop 19, 242 Darling Street, Balmain, 2041 and all over the state. Check out
www.elmstocktea.com.au
for details.
image reference