(as heard on FBi Radio)
While many think the height of Lebanese food is an Emre's shish kebab with garlic and chilli sauce at 2am after a heavy drinking session (though it has it's merits), here are three great places you should check out a broader spectrum of what the cuisine has to offer: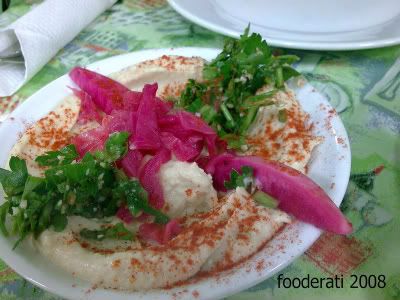 Jasmin - cheap eat
30b Haldon Street
Lakemba NSW 2195
Phone (02) 9740 3589
Cut to the chase and taste the best Jasmin has to offer with a mixed plate; containing homous and babaganoush, made in-house; the babaganoush is delightfully smoky and highly addictive.
This is served with lamb shish, chargrilled chicken, kofte, tabouli, kibbe, felafel and a stack of lebanese bread.
Highlight:
Falafel are crisp on the outside and deliciously soft, fluffy and golden on the inside. The kibbe is texturally interesting, containing a garlicy mixture of mince and pine nuts within a similarly crunchy exterior.
Along with Jasmin's famous lemon juice drink, the meal will set you back around $12 each.
Baalbek - bakery
99 Canterbury Road, Canterbury,
9718 3870.
Baker owner Dominic Moawad, subscribes to the school of thought 'do one thing and do it well. Baalbek only makes Lebanese bread, and yes, it's done seriously well.
"Lebanese bread is eaten with every meal in Lebanon," he says. "Traditionally, bread is the food that binds a meal together; you don't use cutlery for Lebanese food, you use your bread."
Baalbeck sells white and wholemeal bread in a variety of sizes. To make it, bakery staff combine flour, water, yeast, sugar and salt in a huge electric mixer. The result is soft, slightly doughy bread, that's good enough to be eaten plain.
Highlights:
Along with the plain Lebanese bread, they also sell Manoush - a Za'atar (thyme, oregano, marjoram, sesame seeds) spice blend, mixed with olive oil and spread over the top of still-warm Lebanese bread. More-ish doesn't even begin to describe it.
Emma's on Liberty - restaurant
59a Liberty St
Phone (02) 9550 3458
Enmore, NSW 2042
You'll find Emma's tucked away in the heart of Enmore. Night after night, this tiny establishment is packed; popular with groups, this is not a date restaurant but if you're in the mood for a lively dinner with friends who aren't shy to share, Emma's is just the ticket.
The menu is a who's who of classic Lebanese fare; tender shawarma, crisp out/fluffy in falafel, freshly fragrant tabouli, smoldering babaganoush and more.
Highlights:
The ladies' fingers are a must-order item; perfectly flaky filo pastry envelops an aromatic mixture of minced lamb, spiced with cumin, coriander and garlic.
Round off the palate with dates stuffed with orange-blossom walnuts and served with ashtar - a kind of seriously thick cream.