(as heard on FBI radio)
Small dishes, shared amongst friends - what's not to love? Everyone knows that you can head down to the Latin quarter in the city for a tapas experience, but where else do you go for bacalao with bite?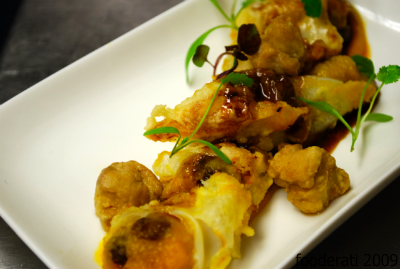 1. Bodega - 216 Commonwealth Street Surry Hills.
Who?
Owners Ben Milgate & Elvis Abrahamowicz could totally be 50's rock'n'rollers for all their tats and quiffs. Their stylish sensibilities culminate in a venue with atmosphere, vibe and verve.
Elvis' Argentinian background and travels across the Latin world culminate in a diverse variety of flavours and textures:
What?
For instance, his fish fingers aren't exactly the kind you're likely to find in the frozen section at your local supermarket. Here, they come in the form of generous slices of Kingfish sashimi on garlic crostini with cuttlefish cerviche and mojama.
For more traditional offerings, there are corn tamale with black beans and avocado – served in the corn husk. At $20, this isn't exactly road-side Mexican cuisine but it's worth trying for its sweet corn flavour and soft texture.
Hot tip:
Arrive early or be prepared to wait - this place continues to be hot property among locals and travelling food fans alike.
2. Emmilou Tapas 413 Bourke Street, Darlinghurst
Who?
Chris Cranswick-Smith's career didn't start with Ready Steady Cook! His Darlo tapas bar showcases 5 years of living in Spain and working in some of its top restaurants.
What?
Like Bodega, you'll find modern tapas, focusing on fresh local and seasonal ingredients. For example stuffed baby squid with sweet breads, pumpkin puree and a smoked bacalao (dried, salted cod) sauce. Another winner; the ceviche of blackened salmon, spiced beetroot and apple cider vinaigrette is smoky and rich, spiked with vinegar cut-through, a perfectly balanced dish.
Hot Tip: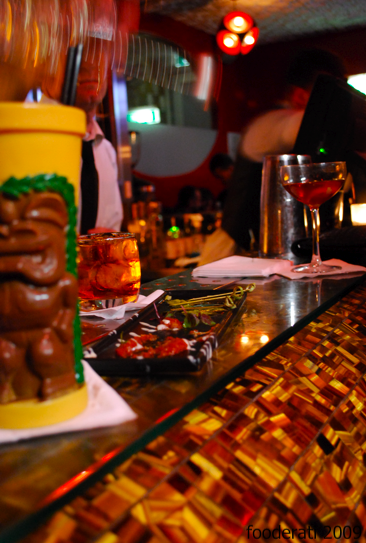 What sets this place apart is the party vibe - you can tell more than one group have had a large night at this cocktail bar cum. Unlike a lot of Darlo venues plagued by residential complaints, this joint is it's open late, so there's no rushing.
3. Japaz 165 Wycombe Rd, Neutral Bay
Who?
Chef
Hiro Takagi's pedigree
has seen him work in high end establishments such as Bilsons, Tetsuya's and a Michellin starred Restaurant Taillevent Robuchon in Japan. Hiro seems to have appropriated his own winning combination of French training and inately impeccable Japanese sensibility which has served Tetsuya Wakuda so well.
What?
OK, so it's not strictly 'tapas' in the literal Spanish sense - If you're sceptical about what Japanese Tapas entails, don't worry. While the 'series of small dishes' rule still applies, its more a DIY degustation rather than the scarier possibility of Tempura Chorizo or Teriyaki Patatas. The menu features a series of small, modern dishes with a delicate Japanese touch, starting with lighter offerings at the top and progressing into heartier fare - a great example of 'Izakaya' dining.
Twenty Second Swordfish with Preserved Lemon Jus – pan seared, finished with aniseed liqueur and served with fresh tomatoes, the only disappointment is that there isn't more to go around. Fortunately the Scallops with Sweet Soy and Onion Butter feature clean, simple flavours and really let the scallops play the lead.
Hot Tip:
This Neutral Bay gem is a cosy dining room, designed for a sexy evening of sharing; all dark wood, tables for two and dimly lit atmosphere. Take a date.
(images are of Emmilou Tapas Bar)