(as heard on FBI Radio)
Like walking into the video store and not being able to think of the dozen or so films you had in mind on the way there, dining in Sydney can sometimes have you at a blank when it comes to looking for something particular.
Now that it's spring (cue images of lambs prancing, flowers blooming, birds, bees, etc), improve your chances of getting in on the action by taking your long time lover, or first time fancy on a date. Here are some thought starters to get your mojo running:
(inexpensive)
1. Big Rig Diner
231 Oxford Street, Darlingurst
Tel: +61 (02) 9326 0044.
Open Tuesday to Saturday, 6pm until late
Gelato Messina
241 Victoria St
Darlinghurst NSW 2010
Do it old Americana style - burger or hot dog followed by a gelato mission.
Big Rig Diner is the new venue beneath Ruby Rabbit, specialising in retro Americana style - There are pictures of Elvis on the walls, a jukebox and a menu that includes fries, hot dogs Tex Mex favourites like fajitas and of course, chilli con carne. Pull up a booth and channel Sandy and Danny, Grease style.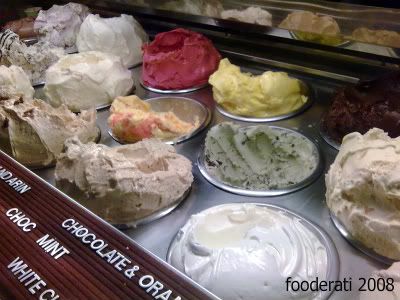 When you're done, stroll up Victoria Street and head to Gelato Messina. With the weather getting warmer, there's something romantic about strolling through Darlinghurst, the scent of Jasmine and spectacular people watching.
Top picks are the new Campari and marmalade and classic pistachio.
(moderate)
2. Uchi Lounge
15 Brisbane St
Surry Hills NSW 2010
(02) 9261 3524
Think cute, old-school kitschy Surry Hills terrace meets cosy Japanese bar. If you want to take your time, Uchi Lounge is a great place to start. Everything seems to move at tea ceremony pace here, so pull up a chair at the long bar and try a Japanese-themed cocktail. Incorporating flavour-infused sake (chilli and lychee are top picks). Nibble on a bowl of edamame, throw back a few sake infused oysters or prawn and fish balls with green tea salt before heading upstairs for dinner, or onwards into the night.
(exy)
3. Oscillate Wildly
275 Australia St Newtown
NSW 2042 - (02) 9517 4700
Open Tue-Sat 6pm-10pm
If you're really out to impress, Oscillate Wildly will probably give you a fighting chance of a happy ending to date night (apologies).
Leave your trust with the guys in the kitchen - it's an 8-course ride through mollecular gastronomy territory, guided through by the experts. Foams, soils and gels aside, this is some of the most inventive and interesting food you'll find in Sydney at the moment. On the atmosphere side, the intimate dining room space and sparingly efficient service will give you time to casually drop the suggestion of a 'nightcap at my place' after.
$95 pp, BYO