Margaret Fulton's 85th birthday menu
How does one celebrate someone who has packed ten lifetimes into 85 years on this earth? Stephanie Wood from the(sydney)magazine certainly had her work cut out for her when tasked with summarising Margaret Fulton's myriad of achievements as a food writer, educator, personality, mother and grandmother
(read her story here)
. So when one organises a dinner to celebrate said doyenne, how does it happen?
Margaret Fulton and Stewart White, President of the FMCA
It stands to reason that no run of the mill restaurant or function venue would suffice for such an occasion as the 85th birthday of an icon.
Luckily NSW Parliament House was free and executive chef Scott Clark was up for the challenge of honoring a true member of Australian food royalty (no pressure, mate).
Presented by the Sydney International Food Festival and the Food Media Club of Australia, around 250 guests descended on Parliament House for cocktails, canapés and hopefully a glimpse of Ms Fulton's famous antics.
Prawn cocktails with meyer lemon mayonaise

Guests were treated to a Margaret-sanctioned menu, based on her philosophy of simple, heart-felt food. Oysters, one of Margaret's favourites (often enjoyed at home with bread and butter) made a feature, as did a host of beautiful Australian produce which showcased Scott Clark's expertise and Margaret's honest, no bullshit approach to good food.
The menu:
Canapés
Sydney rock oysters with fire ice granita
Gougére pastries
Entrée
King prawn cocktail with meyer lemon mayonnaise
Terrine of corn-fed quail, pheasant and pickled pork with spiced pear and green peppercorn relish and toasted hazelnut campagne bread
Main Course
Individual butter-puff beef wellington with ragoût of oxtail, pearl onions and forest mushrooms
Dessert
Mango, Tahitian lime and roasted coconut trifle with Bundaberg rum parfait glacé
Simon Marnie thanks Ms Fulton for helping him pick up the ladies
The cake, was custom made by Adriano Zumbo - not in the least because Ms Fulton's fondness for surrounding herself with good looking men is legendary. Given a brief from the Food Media Club Australia's Veronica Cuskelly;
"Ms Fulton likes simple, clean, uncomplicated flavours like vanilla."
gave Zumbo a blank canvas and scope to think beyond the square to come up with something as unique as Queen Margaret herself.
cutting the cake: Adriano Zumbo, Margaret Fulton, Stewart White
'Margaret's V8'
, an eight textured vanilla cake featuring layers of
vanilla dacquoise, praline w salted sable, ganache, chiffon sponge, brûlée, macaron, ice-gel, chantilly and topped with vanilla
'caviar' and Ferran Adria-inspired white flowers and stones, was an understated work of art.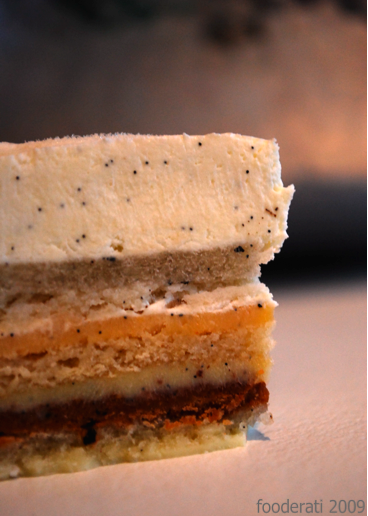 A cross section of 8 textures



She must have liked it, as she held his hand while the room sang Happy Birthday...a touching moment. Guests were also treated to an individual boxed slice of commemorative cake to take with them, though I wonder how many slices actually made it all the way home.




The party were regaled with stories of success with the opposite sex thanks to Margaret Fulton Cookbook greats such as her classic Lemon Delicious (Simon Marnie), while food industry friends from past and present shared their warmest memories of the lady of the hour.





Julie Goodwin, Adriano Zumbo



Perhaps the best quote of the evening would have to be from the lady herself:



"I've always thought that cooking was just as interesting as men."



...which probably explains more about Margaret than anything else - at 85, she continues to be a no-holds-barred tour de force. Happy Birthday Margaret.


Mango, Tahitian lime and roasted coconut trifle with Bundaberg rum parfait glacé