The rain (aka God's crowd control) certainly didn't stop dedicated foodies from around Sydney from heading down to Pyrmont Park's SMH Growers Market to witness (and partake in) one of the first public events for Sydney International Food Festival.
































Fergus Henderson and his The Whole Beast: Nose to Tail Eating
The Nose-To-Tail BBQ, hosted by Fergus and Margot Henderson and directed by the steady hand of Alex Herbert from Bird Cow Fish (Pig?) was inspired by Fergus' food philosophy of nose to tail eating. That is, rather than seeing a pig, for example, as a few chops and a nice side of bacon, Henderson brings into light the concept of gaining the most value from an animal by championing the less popular cuts of meat and offal. A sort of 'if you're going to eat meat, know the whole beast, to put it in a very crude nutshell.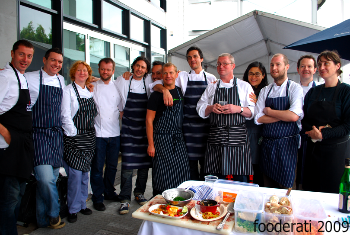 Sydney's finest
The event included some of Sydney's best restaurants including Becasse, Dank Street Depot, Longrain, Restaurant Balzac, Ash Street Cellar, Four in Hand, Astral and of course Bird Cow Fish, cooking side by side in a celebration of porcine perfection, sponsored by (of course) Australian Pork.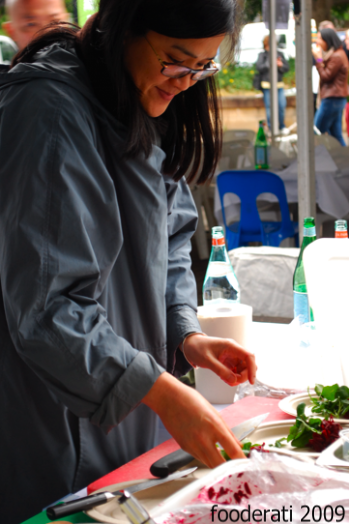 Kylie Kwong in assembly mode
The likes of Jared Ingersoll, Justin North, Matt Kemp, Kylie Kwong, Jeremy Strode, Alex Herbert, Paul McGrath, Martin Boetz, Colin Fassnidge, Warren Turnball, Lauren Murdoch, Sean Connolly and their teams stripped down to the tongs and mucked in with their teams in full view of an appreciative cutlery-weilding audience.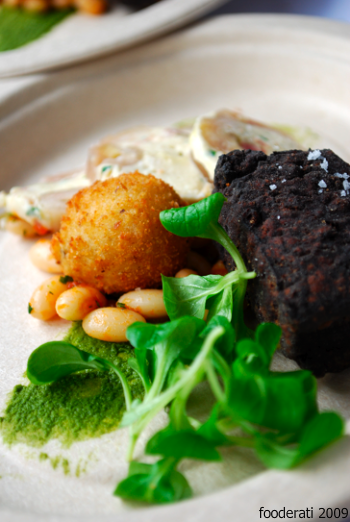 Carpaccio of stuffed pigs trotter with black pudding and crispy quails egg by Restaurant Assiette
Nose to Tail was a unique opportunity for anyone who has never peeked inside a commercial kitchen to witness the action and spectacle that is a well oiled team of chefs.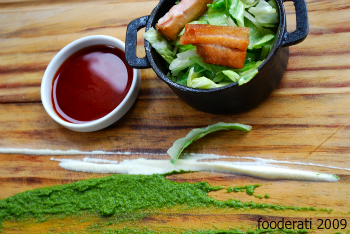 Confit of duck hearts and cured black pig lardons with soft quail egg on brioche toast, Bistro Ortolan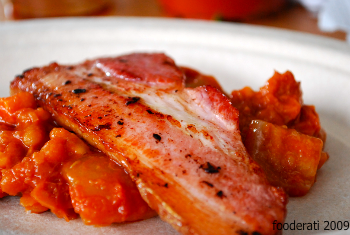 Becasse's bacon and bean bonanza
Wind, nor rain, nor flying plates kept their spirits down and as Fergus pointed out, "Lucky pigs are of a certain proportion and density, otherwise we might have seen those fly too."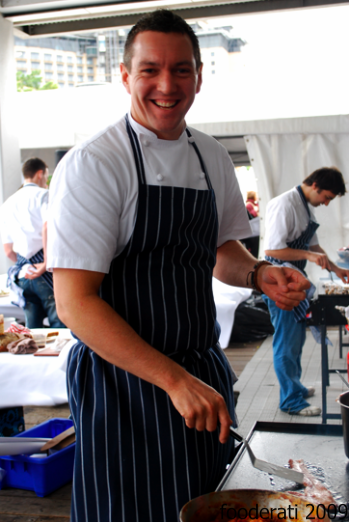 Justin North on the ones and twos
For those who doubted the rise in popularity of offal on Sydney's menu or perhaps didn't think they could stomach it, this was certainly the event to prove ones opinions and tastebuds wrong. With dishes like Dank Street's sticky, sweet, tart pigs trotters with poached egg and green apple salad, or Becasse's own spin on bacon and beans to Bird Cow Fish's blood sausage with scrambled eggs and sourdough toast, this was truly a showcase of the heights to which nose to tail eating can be taken.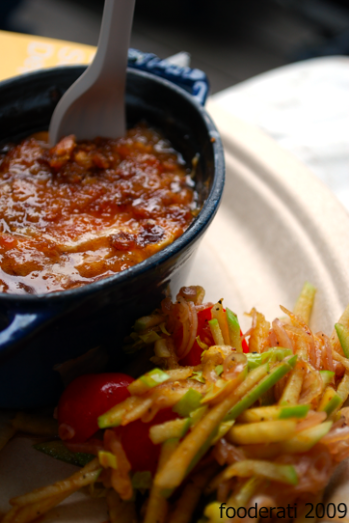 Dank Street Depot's Pigs Trotters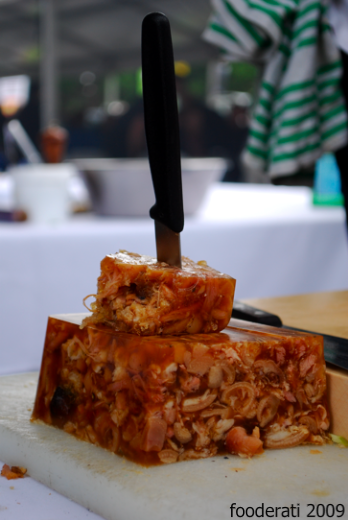 At $15 per plate, forget Let's Do Lunch - today's BBQ represented some of the best value eating this city has to offer. A lesson learned for those who stayed away because of the weather, SIFF just might have more surprises in store. Read more about the Sydney International Food Festival
here
.
































Pig on a spit perfection