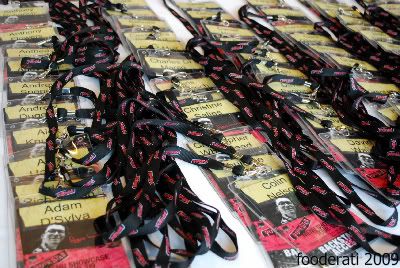 Passports to piggy heaven
While the idea of a pigs extremities dinner may not whet the appetite for some, when it comes to chefs (one would argue they are the mainstay of the church of Fergus Henderson) the thought of a dinner designed by the Overlord of Offal, the President of Piggy bits, the Lord of Lesser parts, is enough to get many in a dither.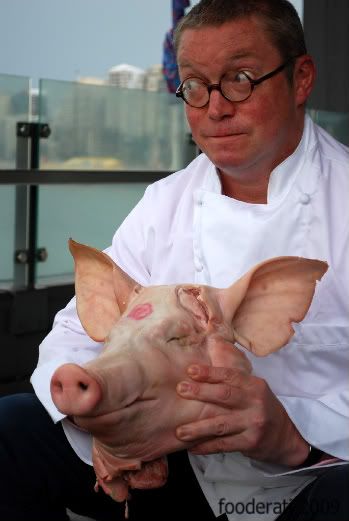 Fergus Henderson and friend
Bourdain's introduction to The Whole Beast: Nose to Tail highlights Henderson's philosophy as a veritable historic document, a culinary doctrine and a "proclamation of the true glories of pork, offal and the neglected bits of animals we love to eat."

Food Service Magazine's editor Anthony Huckstep interviewing Fergus
These glories were showcased at a dinner hosted by Australian Pork at The Wharf restaurant, much to the delight of those who managed to score arguably one of the hottest tickets in town this SIFF month. Australian Pork's food industry events hero Aussie chefs as rockstars, so it stands to reason that Mr Henderson would have to be the ultimate Porkstar.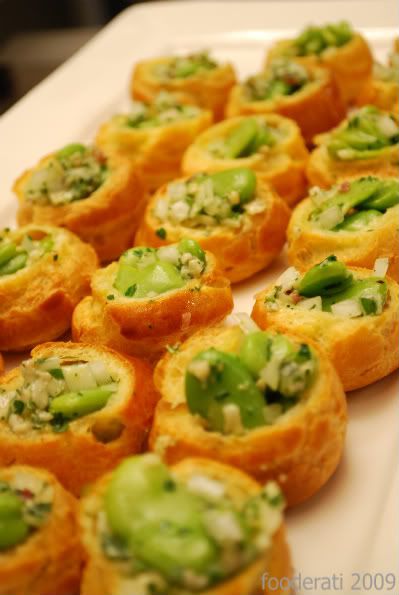 Pig in a chou
The menu:
Pig in a blanket
Pig in a chou
Warm and damp pigs head salad
Trotter, prune, bacon & mash
Crispy pigs tail
Ruby grapefruit sorbet & frozen Russian vodka
Those who have read 'The Book' or eaten at 'The Restaurant' will be familiar with warm and damp pigs head salad, a surprisingly light offering; a combination of peppery, fresh salad and unctuous, soft, fatty, meaty pigs head bits, cut with Dijon mustard and red wine vinegar.
Trotters with prune, bacon and mash is exactly that - simple, lip-sticking trotters, balanced with the sweet prunes, salty bacon and rustic mash goes a long way to prove the popular misconception that the English can't cook.
The pigs de résistance of course, would have to be the crispy pigs tail - a perfectly balanced plate of sensations, crisp outer crust, creamy not-quite-fat, not-quite- flesh beneath. A vinegarette of malt vinegar (a thoughtful English touch) and eschalots balances the class act.
In the following days, I've heard whispers of journos (guess, who, don't sue) who couldn't stomach elements of the meal, much to the chagrin of the devotees surrounding them. Not sure what part of 'Fergus Henderson', 'Pigs extremities theme' and 'industry dinner' made them think they'd be eating 'piggy in the middle', but the general consensus was one of revelation, respect and reinforced Henderson's status as a true global food maverick.