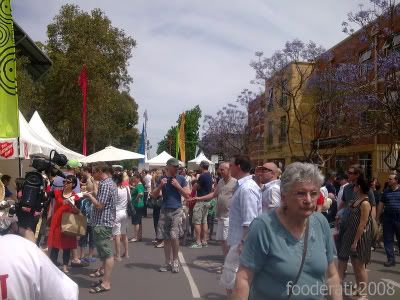 Dank Street Festival 2008 
October in Sydney really has to be the most exciting month of the year for food lovers. Now that we're coming to then end of Sydney International Food Festival, it's time to have one last hurrah before it's all over and we're left to our own foodie devices.
If you're planning on getting out and about this weekend, here are three things you shouldn't miss:
1. Seven Bridges Walk


The Crave Festival, which incorporates other festivals such as The World's Funniest Island and the Darling Harbour Fiesta is hosting two unique events this weekend. The first is Breakfast on the Bridge - 6000 lucky people have registered for the right to have breaky on our iconic Coathanger. But if you missed out, there's the Seven Bridges Walk.
Not just an excuse for content marketing by Channel 7, it's a walking program that takes in seven bridges around Sydney Harbour; designed to get people active and see more of our city by foot - think of it as a 'carrot/stick' approach to exercise...eat great food..and then walk it off!
Each of the seven villages will play host to food from around the world:
The Rocks/The Netherlands - Poffertjes
Pyrmont/Turkey - Gozeleme
Rozelle/China - Dim Sum
Hunters Hill/Australia - Aussie BBQ
Lane Cove/Turkey - Gozleme
Wollstoncraft - Salads and wraps
Milsons Point - A variety of food stalls
For maps and other details, click 
here
2. Dank Street Festival


Dank Street has long ingrained itself into Sydney's food landscape as a destination point for fresh produce and generally good, honest food. This year's already packed market stall schedule will also include the introduction of the Green Kitchen, featuring cooking demos from some of Sydney's best chefs-with-ethical-philosophies including Jared Ingersoll, Kylie Kwong and Alex Herbert.
Here's the schedule:

11:15am Ashley Hughes - Alio Restaurant
12:15pm Alex Herbert - Bird Cow Fish
1:15pm David Campbell - The Book Kitchen
2:15pm Kylie Kwong - Billy Kwong
3:10pm Jared Ingersoll - Danks Street Depot
Click 
here
 for more info
3. I Love Korean Food


I'll be the first to admit that I'm not that hot on Kimchi. Fortunately Korean food isn't just pinned on this pickled vegetable mess. For the month of October, the Korean tourism board have been pimping out Sydney restaurants by offering $10 meals. Considering this is cheaper than most pub meals, if you aren't familiar with Korean fare, this is a great opportunity to try some of the most authentic food this side of the map.
Some of the restaurants taking part are:
Dae Jang Kum T) 02 9211 0890
WWW.DAEJANGKUM.COM.AU
35 Goulburn Street, Haymarket, NSW 2000
Madang T) 02 9264 7010
WWW.BEBO.COM/MADANGS
371A Pitt Street, Sydney, NSW 2000
Eastwood Korean
Restaurant T) 02 9804 0011
118 Rowe Street, Eastwood NSW 2122
Find out more about K-Town 
here
.