Sydney-siders locals embrace pizza like a National food (arguably our own options are a little thin on the ground)...and some Italians might let us have it, given some of the horrific mutations we've come up with. While some might overlook the hotly contested pineapple, one might argue that its just plain wrong to put hoisin sauce and Peking Duck atop this much-loved bread.
Though sometimes cases can be made for the more exotic pizza topping varieties, most of the better pizzerias tend towards a purer, more Neapolitan approach: thin-though-tender bases and sparing-though-classic ingredients with a top produce pedigree that Sydney can be proud of. This is, of course the way they were created.
People stand by their favourite pizza joint like some crazy soccer fans and their teams, so to attempt rank them would mostly likely incite public outrage, so here is (in no particular order) the best pizza Sydney has to offer.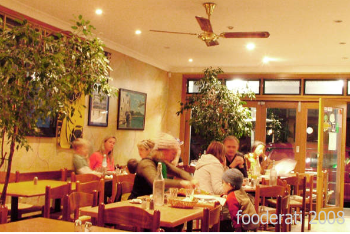 Gelbison
 (10 Lamrock Ave, Bondi). This family-run Bondi institution has been feeding locals and tourists alike for years – two local brothers even named their band after it, such is their fondness for this place. Despite the lack of a woodfire oven, they continue to churn out these discs of heaven at a rate of knots. Arrive early to avoid disappointment..this place gets packed most evenings and weekends.
Pompeii's
 (126 Roscoe Street, Bondi). Despite owner George Pompei's Northern Italian origins, he turns out incredibly authentic pizzas (pizza comes from the south, you know) both popular with the locals and the tourists who jostle for table space at this heart-of-Bondi restaurant. The quattro fromaggio is worth a try as is the thinly-sliced potato pizza. Leave room for the delicious gelato afterward – take it away and walk off the meal down the beach.
La Piadina
 (106 Glenayr Ave Bondi Beach NSW 2026). It may not be 'pizza' in the classic sense, neither is a calzone. A piadina is a flatbread from the Romana region in Italy. Part fajita, part pizza, it's all good.
Love Supreme
 (180a Oxford St, Paddington). Named in honor of one of Coltrain's greatest works, this (relative) Paddington newcomer is owned by the original Arthur's Pizza crew. Thin, thin bases made of organic flour provide the perfect backdrop for delicious topping combinations, such as the Smilie. Dark wood, perfect pizzas..and jazz. Great combination for a date.
Pizza e Birra 
(Shop 1, 500 Crown St Surry Hills). Surry Hills is renowned for their blanket 'no reservation' policy and unfortunately Pizza e Birra is no different. The pizzas are, however worth the (sometimes lengthy) wait. Try the simple prosciutto, rocket and parmesan or the mushroom pizza and wash it down with the restaurant's own home brew.
Pizza Mario
 (St. Margaret's Shop 9, 417 - 421 Bourke St Surry Hills). A Sydney stalwart, famous for its gruff staff and fabulous pizzas, you will have to wait so don't bitch and moan, ok? Order the local favourite – Margherita with Proscuitto.
Crust
 (13a Booth St, Annandale). More of the 'new school Australian' following, you'll find a few more toppings here than you will at other restaurants on this list. The crusts are slightly thicker…but despite this, their pizza range caters for gluten free and other dietry requirements – try the gourmet vegetarian with creamy pesto drizzled on top.
Rosso Pomodoro 
(Shop 90-91, 24 Buchanan St, Balmain). This gem is tucket away in Balmain's 'Lego Land' – the newly built up suburb on the verge of White Bay. Fans of this pizzeria are of the extreme kind…you'll soon discover why when you try them. Order the Potato with Italian Sausage and Rosemary or the Calzone and feel the conversion by consumption begin.
Napoli in Bocca
 (73 Dalhousie St, Haberfield). Popular with nonnas and foodies alike, Napoli whips out pizzas with deft speed from the woodfire oven in the front of the restaurant. Great for groups, it's worth going with a large crew so you can try more. There really isn't a bad one in the bunch – but a particular favourite is the simple Magherita – tomato base with bocconcini and basil.
La Disfida
 (109 Ramsay St Haberfield). Think 'soup Nazi' when it comes to service – this place has a notorious 'treat 'em mean, keep 'em keen' approach – but the pizzas are worth the brisk treatment. Try the Fieramosca with Roasted Capsicum, Tuna, Olives, Capers, Anchovies and Parsley; it's a house favourite.
Whether its thin and traditional or Australian 'gour-met', it's clear that like all food, what's considered good can be a really subjective sport. One thing is clear though – Sydneysiders love their pizza, no matter what shape or form.