Last night saw the first Taste of Young Sydney [TOYS] dinner: Issue #1: Phat.

The idea was spawned from a conversation between Sydney chef Morgan McGlone of Flinders Inn and SMH senior writer Helen Greenwood, loosely consisting of a rant session about how young chefs don't take the initiative enough in order to show what they can do when left to their own devices. A phonecall to me from Morgan, a few yum cha and pub sessions later and Taste of Young Sydney was born.
Coming together over beers at the pub; Adriano Zumbo, Darren Robertson (Tetsuya), Morgan McGlone (Flinders Inn), Dan Hong (Lotus), and the Good Food Guide's 2010 Josephine Pignolet Young Chef of the Year chef, Mitch Orr decided to pull their skills together and create a dinner with a difference. With each chef taking a course under the theme 'Phat', the dinner was inspired by events of legendary dinners past, like those created by Gay Bilson.
Together with as many friends as possible; wine, front of house, marketing, music, design and development, the [TOYS] collective exists to showcase real next generation talent in a fun, dynamic environment.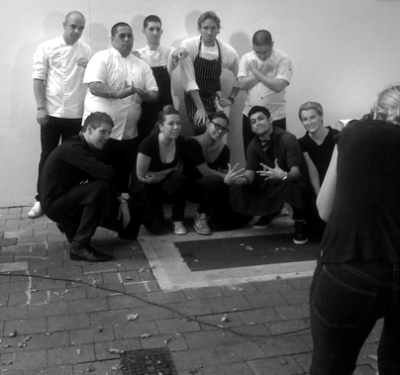 [TOYS] Class of 2010

Banjo Harris-Plane, Erin Thommeny, Kylie Javier, Paul Yanon, Chauncey Sjostedt, Dan Hong, Darren Robertson, Mitch Orr, Morgan McGlone, Adriano Zumbo
Held at Flinders Inn, Paddington, 55 fierce food lovers came together to experience a meal cooked by five friends, running the gamut from Dan Hong's mini banh mi canapes to Darren Robertson's Three Little Pigs inspired pork dish and Adriano's reconstructed pork spare rib dessert, the food was inventive, inspired and most of all, fun.
Images, taken by the very talented Nathalie Swainston to come, but for more details, check out our site:
www.tasteofyoungsydney.com.au
.