Call me provincial, but one of the great joys in life when you're on a road trip is the humble pie*. From quality basics (beef pie) to the sublime and ridiculously good (and sometimes not so much), there are plenty of great pies to be found up and down the NSW coast. Here are a few you should check out:
Fredo's Famous Pies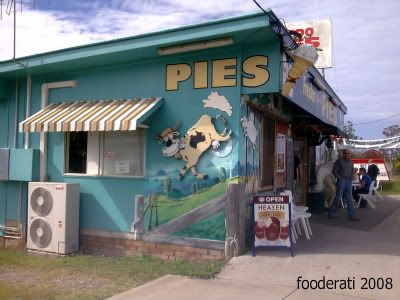 Just 5kms from Kemsey on the Pacific Highway in Northern NSW, you'll find the tiny town of Frederickton and its famous pie shop, Fredo's. Established in 1993, this little shack should be part of every Splendour in the Grass pilgramage road trip and offers over 50 types of pies, pasties and rolls, 364 days a year.
Highlight flavours run the gamut between classic to gour-met, and include steak and pepper, apricot chicken, mongolian lamb, chilli beer & beef, and venison.
Bring a pen and make your mark on the awning - it's tradition.
www.fredopies.com.au
75 Macleay Street, Frederickton, NSW
Open 7 am to 7 pm - 364 days a year
Hayden's Pies
If you're headed down the South Coast of NSW, there are few roadside food finds that are better than Hayden's Pies, on the outskirts of Ulladulla. Discovered during a camping trip at Meroo Head, Hayden's is favoured by truckies, holiday makers and locals alike for their vast selection of cracking pies, all made with buttery pastry and quality ingredients. Aside from a solid beef pie, there's slow cooked kangaroo with roasted beetroot, butter chicken with a side of minted yoghurt, several respectable vegetarian options, and on Fridays, Atlantic salmon and prawn mornay with creamy leek sauce.
166 Princes Highway
Ulladulla NSW 2539
(02) 4455 7798
Berry Sourdough Bakery and Cafe
Ok, so while this place isn't strictly a pie joint, if you happen to be in the Southern Highlands, the Berry Sourdough Bakery and Cafe provides solace from bad coffee, refined white bread and hokey danishes. Run by Joost and Jelle Hilkemeije, this cute little joint lives just off the main road running through Berry, meaning it's slightly less touristy and a bit more chilled in vibe. Drop by early if you're after loaves of brioche or sourdough for the road, but the real gems are in the traiteur cabinet in form of delicate mushroom pithiviers (well, it's kind of like a fancy pie), and other savoury pastries as well as chocolate or lemon curd tarts and other sweet hits for the road trip playlist.
23 Prince Alfred St
Berry 2535 NSW
Honorable mentions:
The pie shop, Buladelah (Mid north coast, NSW)
Robertson Pie Shop, Robertson (Southern Highlands, NSW)
Trinity Bakery, Bathurst (Central West, NSW)
Something missing? Send me your suggestions on your favourite road trip food stops!
*Also, pastie, sausage roll, quiche and generally any savoury baked good.